Really tasty moist chicken! I like how you get a lot of flavor for not much effort. The first time, I just made the original recipe. The next time I made this, I tried doubling the spices as suggested by some of the comments and really liked that. The doubled spices formed a flavorful crust on the chicken (though the spices blackened considerably).
To make this an even faster prep, you could mix up the measured spices and keep those in baggies. Then add oil and cook whenever it's time. You could even rub the spice mix onto the chicken the night before and then just pull the prepared chicken out of the fridge when you're ready to cook if you're in a hurry when dinner times roll around.
I think it makes an easy weeknight meal. For sides, I've liked stir-fried green beans, roasted butternut squash, roasted potatoes, and rice. Give this one a try!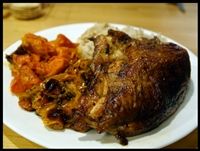 (
Collapse
)