Summer has kept me happily supplied with berries. So I decided to try making fresh fruit tarts after being inspired by
hoorayformegan
's
post
. Came out beautifully. I found the dough for the crust was difficult to work with, sticking to the counter top and my fingers. The dough also broke apart easily. I got 13 tarts, 1 extra shell, and 1 broken shell that I dropped on the floor trying to get it out of the muffin tins. Taste was good though I wasn't a huge fan of the cream cheese filling. I think if I try again, I'll use a lemon curd or maybe vanilla custard instead.
Easy Fresh Fruit Tarts
Makes 12-14
Crust:
1 1/2 c flour
1/2 tsp salt
2 Tbsp cane sugar
4 Tbsp confectioner's sugar
1/2 c melted butter
2 Tbsp milk
dash of cinnamon (optional)
Mix dry ingredients, then add liquid ingredients and blend together with a fork.
You can of course buy molds for tarts but I didn't have any, so I just rolled the dough to about 1/8" thick and cut out circles with a biscuit cutter. Then I pressed the circles into the bottoms of a well-oiled muffin pan. I baked it at 425 degrees for about 7 minutes, or until they start to brown.
Filling:
8 oz cream cheese
1 tsp vanilla
1 Tbsp fresh lemon juice
dash of nutmeg
1 Tbsp confectioner's sugar
1/2 c granulated sugar
Beat cream cheese and sugar in a large bown until it's creamy. Then beat in the lemon juice, nutmeg, and vanilla. Then I put the bowl in the refrigerator to firm up while I made the glaze and sliced the fruit....
Apricot Glaze:
1/8 c apricot preserves
a little bit of water. I just added it by the tablespoon until it was the right consistency to be able to brush over the tarts.
Stir the preserves and water in a small saucepan over medium heat until it comes to a boil. Then brush the glaze over the cooled tart shells.
THEN FINALLY, take the filling out of the fridge and drop it by the tablespoon into the middle of each shell. Then arrange the sliced fruit on top of the filling. You can brush the glaze over the whole tart when it's finally assembled to make it nice and shiny, but that also adds quite a bit of sweetness. It's up to you!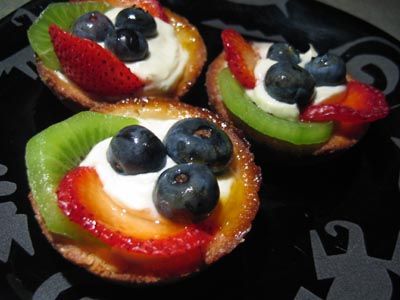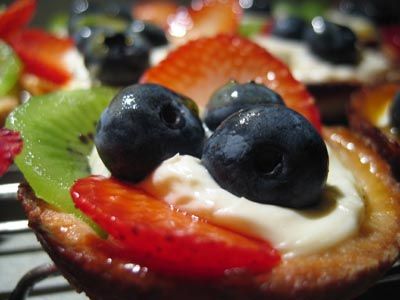 Thread at food_porn