Growing up, my neighbor made this dessert for big get-togethers (and with 9 grown-children, it seemed like every holiday was a big reunion). I adored this recipe and was thrilled every time I saw this being served. Spotted this recipe years later on the kraftfoods.com website and was happy to see it was pretty simple to make and tasted just as good as I remembered.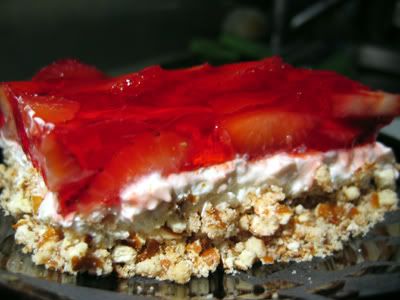 2 cups finely crushed pretzels
1/2 cup sugar, divided
2/3 cup butter or margarine, melted
12 oz. (1-1/2 [8-oz] pkg.) Cream Cheese, softened [I used two 8oz packages.]
2 Tbsp. milk
1 cup thawed Cool Whip Whipped Topping [I used 1.5 cups]
2 cups boiling water
1 pkg. (8-serving size) Strawberry Flavor Gelatin
1-1/2 cups cold water
1 qt. (4 cups) strawberries, sliced


Preheat oven to 350°F. Mix pretzels, 1/4 cup of the sugar and the butter. Press firmly onto bottom of 13x9-inch baking pan. Bake 10 min. Cool. [Note: Don't skimp on the butter. I tried to reduce the amount of butter called for but then the pretzel crumbs just didn't stick together very well.]


Stir boiling water into gelatin in large bowl at least 2 min. until completely dissolved. Stir in cold water. Refrigerate 1-1/2 hours or until thickened (spoon drawn through leaves definite impression).


Beat cream cheese, remaining 1/4 cup sugar and milk until well blended. Gently stir in whipped topping. Spread over crust. Refrigerate until ready to use.


Stir strawberries into the thickened jello. Spoon over cream cheese layer. Refrigerate 3 hours or until firm. Cut into 20 squares to serve. Store leftover dessert in refrigerator.


Got
this recipe
from the Kraftfoods.com website.
Healthy Living
Trim 2 grams fat per serving by preparing with PHILADELPHIA Neufchatel Cheese, 1/3 Less Fat than Cream Cheese, fat free milk and COOL WHIP LITE Whipped Topping.
Substitute
Prepare as directed, using 2 pkg. (4-serving size each) JELL-O Brand Strawberry Gelatin.
Nutrition (per serving)

	Calories 	200 		
	Total fat 	13g 		
	Saturated fat 	8g 		
	Cholesterol 	35mg 		
	Sodium 	        260mg 		
	Carbohydrate 	20g 		
	Dietary fiber 	1g 		
	Sugars 	        14g 		
	Protein 	3g 		
	Vitamin A 	8%DV 		
	Vitamin C 	15%DV 		
	Calcium 	2%DV 		
	Iron 	        0%DV 	

Thread at cooking