While my mom is an incredible cook, I sadly didn't learn as much about cooking as I could've from her since I didn't take much of an interest in food until after I had left home. So when I wander around the aisles in an Asian grocery, I'm mostly peering at the packages trying to remember if I've ever eaten them at home. Recently, on one such stroll, I decided I wanted to have miso soup at home whenever I want it. There was a section in the refrigerated cases with several shelves of different kinds of miso paste. Not knowing the differences, I just picked one that had instructions printed in English. And while wandering around looking for the dashi (a mixture to make the soup base), I found more shelves (unrefrigerated this time) of miso paste. How does one choose? The miso pastes I saw were all high in sodium. It would be nice to find a lower-sodium version since the resulting miso soup was pretty salty. (though still tasty!) I still couldn't really tell you what miso soup is but it turns out to be quick and easy to make at home. And I'm sick with yet another cold already and the miso soup at least makes my throat feel better even if it's not making my cold go away.

Here's a little tour of the ingredients before I give you the recipe.

L to R: miso paste, dashi, wakame (dried seaweed)
There seemed to be 2 main categories of miso paste, red or white. I chose white (which looks more like a pale yellow/tan color) since it seemed to be the milder kind. I'm not a miso expert by any means and a quick search on the web shows I've missed out on all kinds of varieties.
The miso paste ingredients: water, soybean, rice, salt, magnesium chloride, alcohol to preserve freshness.
And now a few close-up pictures of the ingredients:

L to R: miso paste, dashi in a teaspoon measuring spoon, and wakame (dried seaweed)
The dashi looks like little granules that dissolve in hot water to form a soup base. I picked Hon-Dashi which the label says is a bonito fish stock. The seaweed doesn't look like very much when dried but will expand once rehydrated.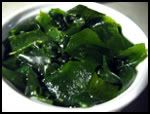 See how there's plenty of seaweed once it's been rehydrated?
Miso Soup
Ingredients:
4 cups boiling water
1/2 Tablespoon dashi (optional)
4 Tablespoons miso paste
2 teaspoons of dried wakame (seaweed)
small amount of soft tofu, cut into small cubes (however much you want)


Bring 4 cups of water to a boil in a small pot.

Add the dashi stock if you're using it and dissolve in the boiling water. Remove from heat.

While water is coming to a boil, cover the dried seaweed with cold water and soak briefly (2 or 3 minutes) to rehydrate the seaweed. Don't soak too long or else the seaweed will start feeling kind of slimy. Drain water and set aside when ready.

Put the 4 Tablespoons of miso paste in a small mug or bowl. Add a little bit of the hot water and stir gently until there are no more lumps.

Add this miso mixture back into the pot of hot water (or hot broth). Add the seaweed and tofu cubes.

Serve immediately. Makes 4 servings.

Don't worry if the contents of the soup settle after a few minutes. Just stir until the soup looks cloudy again. Proper way to eat miso soup seems to be to use chopsticks to eat the solid bits like the seaweed and tofu. Then stir the soup and sip the broth directly from the bowl as if it were a cup.
Thread at cooking