I love being unexpectedly treated to a home-cooked meal. Manisha (a Friend Of A Friend) was puttering around the kitchen making this soup and some chicken teriyaki. I adored this soup so much that I went home and repeated it the next day with some minor modifications. She had used chicken bouillion cubes and I decided to use some chicken thighs since they were on sale. Don't worry about being exact with this recipe. She said it's pretty forgiving and you can basically boil the ingredients until it smells and tastes like soup.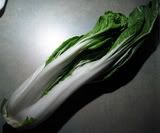 6 cups water
1 teaspoon salt
2 chicken thighs
fresh shiitake mushrooms, sliced (about 1 cup or 2 ounces)
lots of bok choy (a.k.a. Napa Cabbage)(pictured to the right)
1-2 cups frozen cocktail shrimp


Pour about 6 cups of water into a pot, add 1 teaspoon of salt, and bring to a boil.

While water heats, remove skin from chicken thighs and add to the pot of water. Skim away any scummy-looking foam rising to the top and discard the foam.

Cover the frozen shrimp with cold water and set it aside to thaw.

Discard the stems of the shiitake mushrooms and slice. Add to the pot once you're done slicing and continue simmering.

Pick off about 3 large stems from the bunch of bok choy. Wash the bok choy and cut into bite-size pieces about 1-inch long. Set aside. This timing is pretty approximate. I let the chicken and mushrooms simmer for 45 minutes trying to let the broth deepen in flavor before I added the bok choy. Let simmer for another 15 minutes after adding bok choy.

Add thawed shrimp and simmer until heated through. (maybe 3 minutes)

Remove from heat and serve.

(optional) Remove chicken from soup. Debone the chicken and roughly chop the chicken into bite-size pieces. Discard the bones and put the shredded chicken back into the soup.

Thread in cooking