As soon as I read
kitiara
's post about
making bacon-wrapped dates
, I had to know what it tasted like. They're every bit as wonderful as I had imagined. Salty, crispy bacon hugging the sweet date with a creamy, cheesy center. Blissful mingling of flavors and textures. Even better? Only one other person wanted to try them so I had the rest of the dozen to myself. (I only made a handful of them since I was using bacon leftover from making the
Bacon and Cheese Potato Cake
.) You can either fry or bake the wrapped dates. Kit noted that these reheat well but I can't confirm that since I ate them all and didn't leave any for leftovers.
Kit's Bacon-Wrapped Dates
8 oz bacon slices
12 Medjool dates
at least 2 to 4 oz goat cheese
Wrapping Dates
* Cut bacon slices in half
* Cut dates in half (lengthwise or midwise, doesn't really matter) and remove pits
* Smoosh cheese into pit area of one half of date
* Place half-date with cheese down on half of a raw slice of bacon and roll it in the bacon, making sure to leave plenty of overlap</li>
Frying Dates
* Place wrapped dates in a nonstick pan, bacon seam down, on medium heat.
* Cook for about 2-3 minutes per side, gradually turning with tongs until all sides are cooked.
* Place cooked wonders of joy onto paper towel to drain/cool for a couple of minutes.</li>
Baking Dates
* Chill wrapped dates in fridge for 30 minutes (so that the cheese firms up and won't leak out of the wrapping while it bakes)
* Baked at 400F for 20 minutes, turning half-way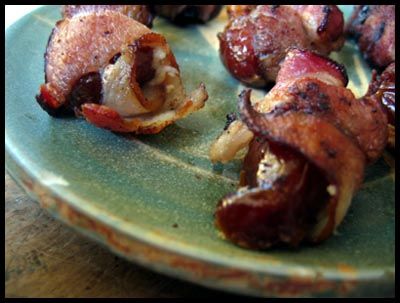 Recipe came from
kitiara
:
http://kitiara.livejournal.com/1908468.html
tyche
then suggested baking them to cook a big batch all at once:
http://tyche.livejournal.com/2070976.html
---
More
bacon-wrapped dates
Thread at food_porn