Time for more home-cooked food posts. Here's an easy recipe that takes hardly any time to whip together. Ten minutes to put the marinade together and then come back in a few hours to pop it into a preheated oven. The longer I left it in the oven, the crispier the skin got while the meat stayed pretty moist. One time though, I left it in for over an hour and came back to find the skin had kinda blackened. Still tasted good but wasn't photogenic. While the chicken is in the oven, I made the five-spice vegetables for a side dish. Another really easy recipe. Both recipes are behind the cut.
Roasted Honey and Soy Sauce Chicken
6 chicken thighs, bone and skin still on.
Marinade:
1/4 cup soy sauce
1/4 cup honey
1 tsp five-spice powder
1 tsp sesame oil
3 cloves garlic (minced)
1 tsp freshly ground black pepper
1-2 slices fresh ginger


Combine marinade in large bowl. Add chicken and toss to coat.

Cover and refrigerate 4-8 hours (guessing on time), turning occasionally

Preheat oven to 400F

Arrange chicken on a baking sheet, skin side up.

Roast for 40-50 minutes until chicken is thoroughly cooked.

-----
Five Spice Vegetables
Vegetables (cut into bite-size pieces):
carrots
broccoli
cauliflower
zucchini
Seasoning:
five-spice powder
white pepper
garlic salt
You can change the vegetable mix to whatever you like most or have on hand. Five-spice powder is available in Asian groceries for cheap. Heat a tablespoon of vegetable oil over medium-high heat. Add the vegetables and sprinkle the seasonings on to taste. How much? I'm not sure. I sprinkled it on pretty liberally a few times while stirring. Stir fry until the vegetables have reached their desired tenderness (about 10-15 minutes?)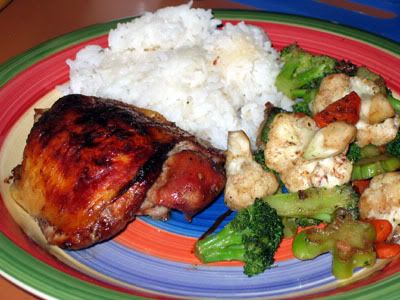 thread at food_porn
thread at vegrecipes