My cooking efforts lately had run into a string of lackluster results. The asparagus risotto was too salty and kind of bland at the same time. The chicken and garlic stew was easy but a little too tender (probably cooked it too long). My corn muffins came out tasteless and dry. The potato croquettes were a flop. I couldn't get the mashed potato mixture to hold its shape no matter how much flour I added. And then when I tried to just bake the whole thing to try to reduce some of the moisture, I forgot about it and came back to find a charred and blackened lump. So sad.
So Thursday night, I was looking for something to redeem cooking at home in my eyes. If I'm going to put the time and effort into puttering around the kitchen, I want to be be able to eat the final products with self-satisfied contentment.
And I scored big with this dish. I even threw it together all by myself. It was simple to make. I loved how it tasted. Compliments came from both roommates. This was what I wanted. I could easily see this being served up in a good Italian restaurant.
For dessert, I had planned these
carrot cupcakes
that were so good they ended up being appetizers since we ate those first.
This is an easy recipe that's ready in just 30 minutes. And to keep the good stuff coming? The Red Sox won to keep their playoff hopes going. Yay!
Spaghetti con Salsiccia (Spaghetti with Sausage)
1-2 pounds of Sweet Italian Sausage
1 onion, diced
about 1 Tbsp of Italian seasonings (I used a little dried thyme and basil, some rosemary, and a lot of oregano)
sprinkle of crushed red pepper (optional)
1 large can of crushed tomatoes (28 ounces)
1 lb spaghetti
salt
grated parmesan cheese


Bring a pot of salted water on stovetop to a boil. Cook spaghetti according to package's instructions once the water's boiling.


While you wait for the water to boil, remove sausage meat from the casing and brown the meat over medium high heat. Break it up into little chunks.


While the meat cooks, dice up the onion and throw that in with the sausage too.


When the onions look translucent and the meat's getting a nice brown to it in parts, toss in the rest of the seasonings and the can of crushed tomatoes. Stir to mix and then lower the heat to a simmer. Let the sauce simmer until it loses a little bit of the moisture. It's generally ready by the time the pasta if finished cooking.


Serve the sauce over spaghetti and sprinkle some grated parmesan cheese on top.

Here's the sauce simmering on the stove top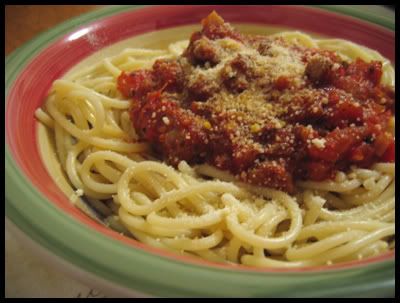 Final dish. Spaghetti with Sausage.
Thread in food_porn
Thread in brokeassgourmet