Want an easy recipe that produces a moist, just sweet enough cupcake? One that sneaks in 3 cups of carrots so you can even try to tell yourself it's healthy?
I saw
this recipe for carrot cake
on
allrecipes.com
and just had to try it. Over 750 users had rated it an average of 5 stars so that's gotta be good, right? Many, many of them had modified it and I used most of their suggestions and tried to trim the oil and sugar as best as I could. I've never baked a cake before but this seemed well within my reach. Afterwards I was quizzing my boyfriend, Brian, on what things I could've changed.
Me: Did you taste any baking soda or baking powder? Some users complained about that so I reduced the amounts.
B: Nope...I didn't taste any of that.
Me: How about sugar? I dropped it to 1.5 cups sugar instead of 2. Was it sweet enough?
B: Yes...it was perfect.
Me: Do you think I could reduce the sugar?
B: No...it was perfect.
Me: Do you know what eggs do in cake? Do you think I could reduce it to 3 eggs instead of 4?
B: (reaching for another one) Whatever you did this time was perfect. I wouldn't change a single thing with that recipe.
Carrot Cupcakes
Yields: 18 cupcakes
INGREDIENTS:
4 eggs
1/2 cups vegetable oil (I might try 1/4 cup veg. oil and 1 cup applesauce next time)
3/4 cup applesauce
3/4 cup white sugar
3/4 cup brown sugar
3 teaspoons vanilla extract
2 cups all-purpose flour
1 1/2 teaspoons baking soda
1 1/2 teaspoons baking powder
1/2 teaspoon salt
3 teaspoons ground cinnamon
1/4 tsp nutmeg
3 cups shredded carrots (I might increase this to 3.5 cups next time)
1/2 cup chopped toasted pecans (optional)
1/2 cup raisins (optional)
DIRECTIONS:
Preheat oven to 350 degrees F (175 degrees C). Grease and flour the cupcakes/muffin tin. (Use a 9x13-inch pan if you want to make a single cake.)


In a large bowl, beat together eggs, oil (and applesauce), brown and white sugars and 3 teaspoons vanilla.


Mix in flour, baking soda, baking powder, salt, cinnamon, and nutmeg.


Stir in carrots. If using, fold in pecans and raisins. Pour into prepared pan.


Bake in the preheated oven for 20 to 25 minutes, or until a toothpick inserted into the center of the cake. Let cool in pan for 10 minutes, then turn out onto a wire rack and cool completely
NOTES:
This was adapted from http://allrecipes.com/Recipe/Carrot-Cake-III/Detail.aspx


These are moist and tricky to get out of the pan. On one set, I sprayed it with vegetable oil and sprinkled flour. On the other pan, I rubbed butter around and sprinkled flour. The one that had been sprayed was much easier to get out of the pan without ripping the cupcakes apart. Maybe I didn't butter it enough but the cupcakes stuck to the pan more on the buttered pan.


For a timesaving tip, many of the commenters on the original recipe reported buying the pre-shredded carrots at the grocery store and used those with no problem.


If you fill the muffin tins to the top, they will overflow the top and the tops might merge together. Better to leave a little room at the top. I could have filled mine up a little more than what's shown in the photo below.


I didn't make the icing but the original recipe also includes directions for making a cream cheese and butter icing. Many of the comments said they reduced the amount of confectioners' sugar.


I used fitday.com to calculate the nutritional info for this recipe. What a pain! I can't imagine having to add that stuff up for everything I cook.


So...are the other substitutions feasible? Can I use just 3 eggs instead of 4? How about changing the ratio of applesauce and vegetable oil? I'm pretty sure increasing the amount of carrots to 3.5 cups is probably ok but I didn't do it this time since I got tired of shredding carrots.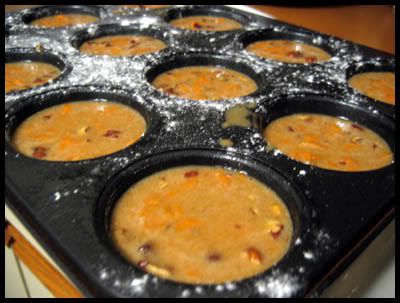 Batter poured into the tins. I could've filled them up a little more.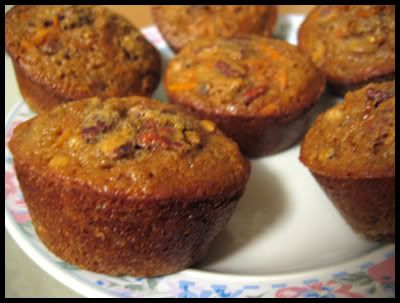 YUM! Here are the finished cupcakes
I broke one apart so you could see the inside
Nutritional Info per cupcake

| | | | |
| --- | --- | --- | --- |
| | grams | calories | % of total |
| Fat: | 9.8 | 88.1 | 36% |
| Saturated | 1.2 | 10.6 | 4% |
| Polyunsaturated | 5.2 | 46.7 | 19% |
| Monounsaturated | 2.8 | 24.9 | 10% |
| Carbohydrates | 36.3 | 138.1 | 57% |
| Fiber | 1.8 | 0 | 0% |
| Protein | 3.5 | 14 | 6% |
| Alcohol | 0.2 | 1.7 | 1% |
TOTALS: 242.5 calories, 9.8g fat, 36.3g carb, 3.5g protein
Thread in bakery
Thread in bakebakebake