hanseth posted this recipe for Stuffed Spaghetti Squash. So I cobbled together this recipe after reading her post and the original post from Straight From the Farm based on what food I had on hand.

I had never cooked or eaten a spaghetti squash before. I was thrilled to scrape it out with a fork and see it separate out into strands and think to myself, "Oh! So that's why it's called spaghetti squash!" However, I was surprised that the texture was slightly crunchy. Is that how it's supposed to be? Or did I need to roast it longer? Cranberries were decidedly tart. Brian saw the bright red and kept expecting it to be sweet before he realized they were cranberries. Next time I think I'll reduce the cranberries to 1/2 cup and add 1/2 cup of golden raisins to add some sweetness.

Afterwards, we salted the squash seeds and fried/toasted them in some vegetable oil. Yum. Not as wonderful as the pumpkin seeds but still very tasty. I'm bummed that the grocery store doesn't seem to sell pumpkins anymore. Is it just a Halloween thing? In any case, I may be cooking squashes more often just to get at their seeds.

I was pleased with this dish since it made sure I ate my veggies. I served it up with a Sausage Pasta Bake. And if you're counting (and I certainly am), this makes #47 in my quest for 50 new recipes tried in 2007.





1 spaghetti squash
1 Tbsp. grapeseed oil (or olive oil)
1 shallot, thinly sliced
kale, cut into thin strips (about 4 cups)
3/4 cup fresh cranberries
1/2 cup white wine (or vegetable broth or chicken broth)
1/4 to 1/2 cup Asiago cheese, shredded




Preheat oven to 400F

While oven preheats, cut the spaghetti squash in half and scoop out seeds. (you can save the seeds to roast later for a snack.) Put a piece of foil on a baking dish, spray it with some cooking spray, and set the squash cut side down on the foil. Bake for 30 minutes and then remove from heat and allow to cool.

Prep the shallots and kale while the squash bakes or cools.

In a large skillet over medium-high heat, add the oil and then saute the shallots and kale for about 5 minutes until the kale is wilted. Add cranberries and wine/broth to the skillet and cover. Lower the heat and let simmer for 4-5 minutes until most of the liquid is gone.

Scoop out the spaghetti squash with a fork and add the squash to the skillet. Mix everything together.

Return mixture to the scraped out squash shells. Sprinkle with Asiago cheese and place under preheated broiler for 3-4 minutes until cheese melts and gets toasty.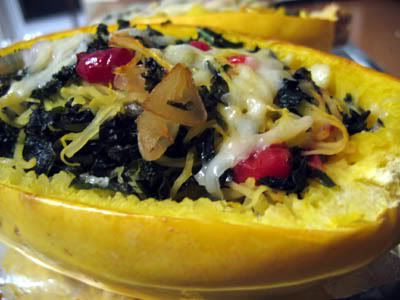 thread in vegrecipes