Happy with this recipe overall. Only changes I would make for next time would be to actually measure the rosemary (I used too much) and to use more broth to make more sauce. Other than that, this one's a keeper for being a simple recipe that uses split chicken breasts. Why split chicken breasts instead of the boneless chicken breasts? Because split chicken breasts seem to go on sale more often. And...I don't know if it's true but I think keeping the bones in for the cooking helps keep the meat moist and prevents the tough, dried out chicken I sometimes get when I forget to pay attention to my cooking.

And in happy news, I got through 50 recipes for 2007! Brian thinks the fried plantains (tostones) in #48 are awfully similar to the fried plantains in #13's Portuguese Breakfast. Here's the difference...#13 is with sweet plantains and they're fried/sauteed in butter. In #48, I used vegetable oil and salted them. They tasted different enough to me to count.



Rosemary Garlic Chicken
2 skinless split chicken breasts with ribs
1/2 cup chicken broth
1 clove garlic, large; minced
1 tablespoon fresh rosemary leaves, finely chopped
1/8 teaspoon salt
1/8 teaspoon pepper
2 teaspoons olive oil
1-1/2 cups mushrooms, fresh and sliced
2 medium shallots, thinly sliced
1 teaspoon cornstarch
1 tablespoon fresh parsley, chopped

Servings: 2
Prep: 20 min
Cook: 35 min



Wash hands. Place chicken, bone side up, on a clean cutting board and cut a thin pocket in thickest part of breast (see Tip below). Blend garlic and rosemary. Spread half the mixture inside each pocket. Secure with wooden picks. Season chicken with salt and pepper. Wash hands.


Spray medium nonstick skillet with nonstick cooking spray; heat over medium-high. Add chicken, bone side up. Cover and brown 3 minutes; remove from heat. Remove chicken; cover and keep warm.


In same skillet, heat oil over medium. Add mushrooms and shallots; cook and stir 2 minutes. Push vegetables to sides of skillet. Return chicken to skillet. Pour broth over chicken and vegetables. Cover tightly. Reduce heat to medium-low and cook 10 to 12 minutes or until done (internal temp 170°F). Place chicken on a platter; keep warm.


In small bowl, blend cornstarch with 1 tablespoon water. Add to mushroom mixture. Cook and stir over high heat until thickened and translucent.




Serving Suggestion: Spoon sauce over chicken. Garnish with parsley. Serve with steamed green beans and crusty French rolls. Refrigerate leftovers.

Tip: To cut a pocket into each breast, insert a small, thin sharp knife horizontally into side of the thicker end of breast, stopping about 1/2 inch from the opposite side. Move the knife in a fanning motion. Remove knife and insert a finger to enlarge the pocket, being careful to keep the opening only about 1-inch wide.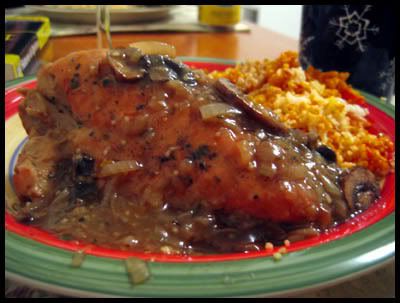 Nutrition:
calories: 340
Total Fat: 8.5g
protein: 55g
carb: 7g
cholesterol: 136mg
sodium 293mg

Recipe from here.

thread in Chicken_Recipes