My boyfriend Brian is a food snob. Have I mentioned this before? The good side of this is we end up eating a lot of tasty food. The bad side is that he's not excited to go eat street carnival fare like nachos with the unnaturally orange cheese or fried dough with powdered sugar. At least he has a weakness for good chocolate. When he bites into something he doesn't care for, he'll eat a few more bites and then just sort of pick at it listlessly until we can order something else for dessert or go to another place to eat. But when he likes it, it's all "mmmmmmmmm" and contented munching. The first bite might make his eyes widen in surprised pleasure. He'll scarf things down and head to the stove for seconds.
This is all a prelude to saying that this recipe resulted in chicken that he loved. Chicken that he declared quite possibly the tastiest chicken he had ever eaten. This makes me happy. The fact that the recipe is really easy makes me even happier. The recipe had been on a page for Middle Eastern food but I haven't done much cooking in that category so I don't know if it's authentic. All I know is that the chicken was indeed as flavorful as the recipe promised and there was not a single thought of calling it bland. The chicken can be marinated 24 to 48 hours in advance so you could prepare it one night and let it marinate all day and then just cook it up when you get home from work. And once when I was pressed for time, I only marinated for 40 minutes and it still tasted great.
One make-ahead question. Could I throw frozen chicken breasts into the marinade and let it thaw in the refrigerator for 24 hours? Would the meat thaw enough to absorb the flavors?
Chicken Breasts in a Middle Eastern Marinade
INGREDIENTS:
* 1/2 cup olive oil
* 1/4 cup lemon juice [I just juiced one lemon]
* 1 tablespoon kosher salt
* 1 1/2 tablespoon black pepper
* 2-4 cloves garlic, minced
* 1 small onion, finely chopped
* 1/4 teaspoon thyme
* 1/2 teaspoon cumin
* 1-1 1/2 lbs skinless, boneless chicken breasts
PREPARATION:
Combine olive oil, lemon juice and dry ingredients to create marinade.
Pound the chicken breasts a little to flatten them out and make it an even thickness throughout.
Up to 24-48 hours prior to cooking, marinate chicken breasts in a covered dish, refrigerated. Be sure each side of the chicken breast is covered in marinade.
Spoon some of the olive oil from the marinade into a frying pan and heat over medium heat.
Cook chicken for about 8-10 minutes each side, or until thoroughly cooked. Cooking time depends on temperature and the thickness of the chicken breasts.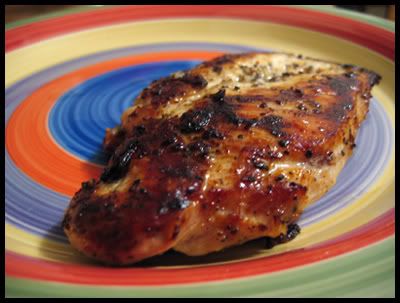 Modified slightly from this recipe:
http://mideastfood.about.com/od/chicken/r/grilledchicken.htm
Thread at food_porn