I didn't have any fresh cranberries for the relish so I just sprinkled some dried cranberries on top. The soup itself came out kind of bland. But when eaten with the cranberries, it was a nice taste blend. The combination tasted better than the soup alone and better than the dried cranberries alone. It's healthy. I told one dieting friend that it didn't even have any butter in it and my boyfriend retorted, "Oh! THAT'S what's wrong with it. It needs a stick of butter."


Carrot and Sweet Potato Soup with Cranberry Relish

This is a thick puree of carrots and sweet potatoes garnished with a zesty cranberry topping. Storing and transporting is easy; Place one cup soup, about one tablespoon relish, and 1 1/2 teaspoons parsley in separate containers. To serve, reheat the soup; combine the relish and parsley, and garnish. Crisp breadsticks and a small wedge of sharp cheddar cheese complete the meal.

Relish:
1/4 cup fresh cranberries, coarsely chopped
3 tablespoons fresh orange juice
1 tablespoon chopped challots (1 medium)
1/2 teaspoon sugar

Soup:
2 large carrots, peeled and cut in 2-inch pieces (about 4 1/2 ounces)
1 large sweet potato, peeled and cut in 2-inch chunks (about 3/4 pound)
1 small onion, cut into 8 wedges (about 14 ounces)
1 tablespoon olive oil
4 cups organic vegetable broth
1 tsp finely grated fresh ginger
1/4 teaspoon salt
1/4 tsp freshly ground black pepper

Remaining ingredient:
2 tablespoons chopped fresh flat-leaf parsley

1. To prepare relish, combine the first 4 ingredients in a small bowl, set aside.

2. Preheat oven to 400F

3. To prepare soup, combine carrots, sweet potato, and onion on a jelly-roll pan, drizzle with oil. Toss to coat. Bake at 400F for 30 minutes or until vegetables are tender and just beginning to brown, stirring after 15 minutes.

4. Place vegetables, broth, and ginger in a Dutch oven over medium-high heat; bring to a boil. Cover, reduce heat, and simmer for 20 minutes.

5. Place half of vegetable mixture in a blender. Remove center piece of blender lid (to allow steam to escape); secure blender lid on blender. Place a clean towel over opening in blender lid (to avoid splatters). Blend until smooth. Pour pureed mixture into a large bowl; repeat procedure with remaining vegetable mixture. Stir in salt and pepper. Ladle 1 cup soup into each of 4 bowls. Stir parsley into relish. Top each serving with 1 tablespoon relish mixture.

Yield: 4 servings.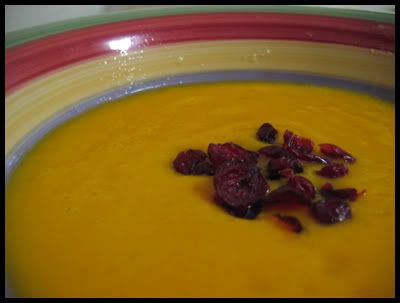 Source: recipe came from Cooking Light
thread in veggie_recipes