Here's an easy dish that makes lots of food. Good for feeding a bunch of people at once like the whole family or a potluck dinner. This one's also nice since you could assemble everything and then just pop it into the oven to bake 15-30 minutes before you plan to serve it.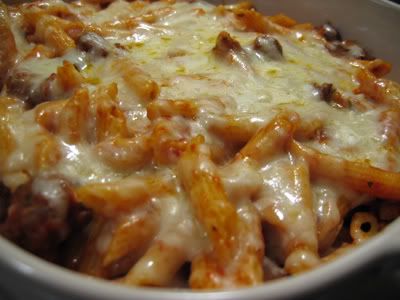 1/2 pound penne
1 pound sausage (removed from casing)
1 medium yellow onion, diced
2 tsp fresh rosemary, minced (because I had fresh available)
1 tsp dried oregano
1 28 oz can of crushed tomatoes
1/4 cup shredded mozzarella cheese
1/4 cup shredded Asiago cheese


Preheat oven to 375F

Set a pot of water on to boil and cook penne according to package directions. Drain pasta and set aside. Continue on to other steps while you wait for water to boil.

Brown sausage in pan and add diced onion to pan. Break up sausage clumps into crumbled pieces. Drain excess fat.

Add rosemary, oregano, and crushed tomatoes. Lower heat and allow to simmer for at least 10 minutes.

Combine the pasta and the sausage sauce and pour into a baking dish. Top with shredded cheese.

Bake for 15-20 minutes.

thread in cooking_club