I adore this dish because it turned out beautifully the first time I tried this recipe. I used 1/2 teaspoon of crushed red pepper for the chile flakes and that provided just the right amount of spiciness heat without being too much for those of us who don't like spicy foods. I was nervous about using tomato paste since the first (and only time) I had tried tomato paste before, I thought it had tasted funny. But nope. That must've been user error the other time. This time...this time I got to enjoy a beautiful blend of flavors. It was also my first time cooking with fennel. So perhaps the newness of that anise flavoring added to my enjoyment.
My boyfriend Brian arrived home with another foodie friend in tow just as I was finishing preparing dinner. As we carried all the food to the living room to eat, the lights went out. Our third roommate whipped out a bunch of candles. I opened a bottle of Montepulciano that I had been waiting for someone to drink with me since neither Brian nor our roommate drinks alcohol. This was the first multi-course meal I'd ever planned for a small group. We had prosciutto-wrapped melon for an appetizer and Brian set up a cheese plate for dessert. I was very pleased to have good friends over for good food and I sat in the candlelight, very content.
No idea how to trim a fennel bulb? Read
How to trim a fennel bulb
Ziti with Sausage, Onions and Fennel
[adapted from Lydia Bastianich]
[serves 6]
Ingredients:
1 Tbs sea salt
1 pound sweet Italian sausage (without fennel seeds)
1 large fennel bulb with stem and fronds (about 1 pound), trimmed and halved lengthwise
5 Tbs extra virgin olive oil
2 onions, halved and sliced
1/2 teaspoon salt
1/2 tsp chile flakes
1/2 cup tomato paste
1 pound zite (long tubes of dried pasta)
fennel fronds
1 cup romano, Parmesan or grana padano cheese, freshly grated
Boil lots of water with the salt (or more salt to make it taste like sea water) until rapidly boiling.
Remove the sausage from the casing and break the meat up with your fingers. Slice the fennel into 1/2-inch slices. Heat olive oil in a skillet over medium high heat and add the sausage, cooking, stirring and breaking it up with a spoon for 1-1 1/2 minutes until it is sizzling and beginning to brown. Push aside (you'll be pushing lots of things aside this recipe) and add onion slices and cook, stirring, until they are sizzling and wilting (2 minutes). Stir in with the meat.
Push aside and add the fennel and cook for 1 minute until wilted, then stir with the other mixture. Sprinkle in half the salt and push to one side again. Add chile flakes (more if you like it spicy) and toast for 30 seconds then stir them in. Move the mixture to the sides again, add the tomato paste and cook, stirring constantly, for 1-2 minutes until it is sizzling and caramelizing, then stir it into the sausage mixture.
Ladle 3 cups of the salted, boiling water into the skillet, stir well and bring the liquid to a boil. Lower the heat and simmer for about 6 minutes until the fennel is soft but not mushy. Meanwhile, add the pasta to the pan of boiling water, stir and bring back to a boil then cook for about 8 minutes until almost al dente.
Check the sauce, which shouldn't be too thick--if necessary stir in more water. When the sauce is done adjust seasoning. When pasta is al dente, lift out of the pan with a spider, drain briefly and add to the sauce. Toss pasta with the sauce, add more pasta cooking water if too thick, sprinkle with fennel fronds and cook, tossing constantly, for 2 minutes until the pasta is perfectly al dente and coated with the sauce. Remove the skillet from the heat, sprinkle the grated cheese over the pasta and toss to combine. Transfer to warm pasta bowls and serve.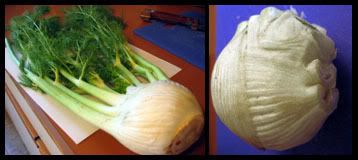 Here's the fennel, sometimes called anise. Some stores sell just the bulb part

sliced onions on left and sliced fennel on right. That's the harder core of the fennel bulb on the edge of the cutting board.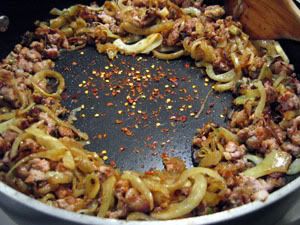 Saute the ingredients a while and then push each round of ingredients to the edges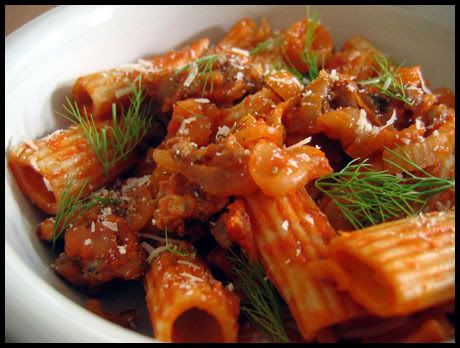 And now we enjoy the dish. I had to snap a photo of the leftovers the next day
Spotted this recipe in
The Amateur Gourmet
thread at food_porn