Whenever I have ripe bananas, I almost always make
Banana Chocolate Nut Muffins
(from
mellybrelly
!) but when this batch of bananas were ripening, I had made a bunch of muffins recently so I wanted to make something different. Saw
this recipe for banana cookies
and decided to give it a try. Simple and pretty good. But I have to admit, my heart was more into the muffins than the cookies. Luckily my roommate liked them and ate a bunch of them.
Banana Cookies
Ingredients:
1/2 cup of unsalted butter, room temperature
1 cup of sugar
1 egg, room temperature
1 cup of mashed bananas (about 2 ½ large bananas)
1 teaspoon of baking soda
2 cups of flour
pinch of salt
1/2 teaspoon of ground cinnamon
1/2 teaspoon of ground mace or nutmeg
1/2 teaspoon of ground cloves
1 cup of pecans (walnuts and chocolate chips are fine alternatives)


Preheat the oven to 350°F. Cream the butter and sugar together until light and fluffy. Add the egg and continue to beat until the mixture is light and fluffy.


In a bowl, mix the mashed bananas and baking soda. Let sit for 2 minutes. The baking soda will react with the acid in the bananas which in turn will give the cookies their lift and rise.


Mix the banana mixture into the butter mixture. Mix together the flour, salt, and spices and sift into the butter and banana mixture and mix until just combined.


Fold into the batter the pecans or chocolate chips if using. Drop in dollops onto parchment paper-lined baking sheet. Bake for 11-13 minutes or until nicely golden brown. Let cool on wire racks.

Makes about 30 cookies.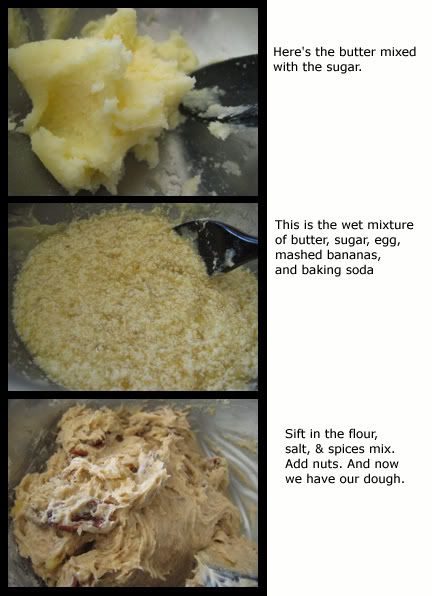 Ready to go in the oven and become cookies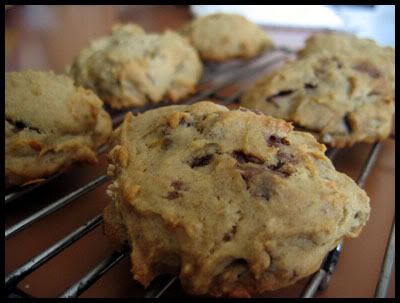 Finished Banana Cookies
Recipe from Simply Recipes
thread at bakebakebake