If you're ever in Cambridge, MA and looking for some good Indian food, head over to Inman Square and eat at
The Kebab Factory
. They have amazing soups, rich and complex flavors. I haven't managed to recreate their soup but that's what I was hoping for when I made this Cream of Asparagus soup. Pretty good but just not as amazing as at The Kebab Factory. If anyone has tasted their soup and has suggestions for how to achieve their far more intriguing flavors, please let me know!
Cream of Asparagus Soup
From the
Taste for Life
test kitchen
20 minutes prep time
Serves 8
1-1/2 lb asparagus
4 Tbsp olive oil
2 leeks, cleaned, cut in half, and sliced
3 cloves garlic, minced
6 cups low-sodium vegetable broth
2 cups milk
salt and freshly ground black pepper to taste


Remove tough ends from asparagus stalks. Cut stalks into 1-inch pieces. Set aside.


In a large pot, heat oil. Saute leeks until tender. Add garlic and saute for 1 minute. Add asparagus stalks and broth. Bring to a boil. Lower heat and partially cover pot. Simmer until vegetables are very tender, about 20 minutes.


Transfer soup to a high-speed blender and puree. Return soup to pot. Add milk and stir to combine. Add salt and pepper to taste. Serve warm.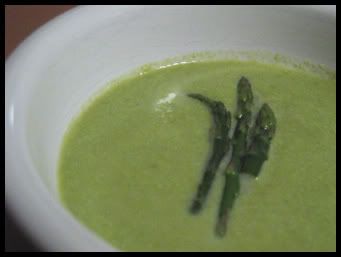 thread in vegrecipes