My friend, Jacyln, and I headed out to
Busa Farm
last weekend. To join its
CSA (Community-Supported Agriculture)
, I paid $260 up front for the season and they gave me $280 worth of Busa Bucks (which works out to an 8% discount). Then I can use these Busa Bucks at their farm stand. The part that really grabbed me though is Busa Farm lets you go into the fields and pick your own vegetable and gives you 50% off the farm stand price. I imagine the discount is given since you save the farm the labor of harvesting the vegetables but for me, the opportunity to pick the vegetables fresh myself was a big selling point. I really need to remember bug spray though. The last few times I've gone out to the fields, I've been bitten by a ton of mosquitoes.
But the vague fear of picking up West Nile Fever is beside the point. The point is that Jacyln and I have enjoyed some truly farm fresh meals this summer. She's an amazing cook and I've picked up a few recipes from her that I need to post.
This is one from this past weekend where we wandered up and down the row of grape and cherry tomatoes, picking tons of tomatoes because they looked so beautiful. First there were the yellow ones, then red cherry tomatoes. Then we were lured away by the Roma beans and purple beans. That's right, purple beans! They're magic purple beans since they turn green when you cook them. At first I was fascinated by the change in colors but now that the novelty has worn off, I kinda wish they would stay purple. Anyhow, by the time we got to the end of the row of beans, that brought us to the other end of the tomatoes as well and then there were orange grape tomatoes to pick! So we picked a bunch of those too. We even found a few purple tomatoes. Bonanza!
I don't know if this is properly called a salad or not but that's its name until someone suggests otherwise. Jacyln's one of those intuitive cooks so the measurements aren't exact. But they're good and the recipe is very easy.
Jacyln's Tomato and Green Bean SaladIngredients
a fistful of green beans (or Roma beans or purple beans)
a whole bunch of cherry or grape tomatoes [I used a little more than a pint of tomatoes]
1 cup of white wine vinegar [I used 1/2 cup of white wine vinegar]
1/4 cup of sugar (and possibly more to taste) [I used about 1/8 cup sugar]


Cut the beans into 1-inch length, bite-size pieces and blanch them in boiling water. Drain and set aside.

Cut tomatoes in half and mix with the green bean pieces.

Mix the vinegar and sugar together and then pour over the tomatoes and green beans. Toss and serve.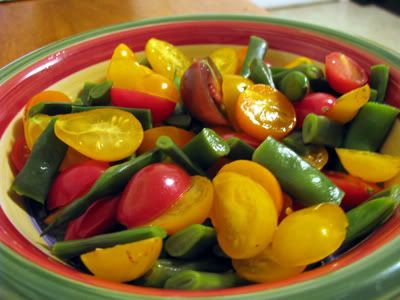 thread at vegrecipes