In
this post
, I had asked what to do with the cans of Spam my sister gave me. You responded with so many good ideas that I was eager to try my first taste of spam. You talked of your own and others' fondness for this canned meat and made me look forward to tasting it myself.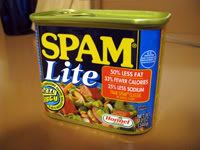 And then I opened it. Have you ever visited the website where it shows photos of fast-food ads side-by-side with the actual photo of what gets served? (It's
here
) The gleaming burger that you can almost smell that turns out to be two pieces of smashed bread around a lukewarm ostensibly beef pattie? That's how it felt to peer inside the opened can of Spam. It looked like dog food (though its claim to the title of food is questionable). Have you ever looked at the nutritional label for Spam? For the Spam Lite version, it's only 110 calories per serving (1/6 of the can). That doesn't sound too bad until you realize 70 of those calories come from fat!
But it's cheap, right? Sort of. A 12-ounce can of Spam goes for $2.50 on sale here. That's $3.33 per pound. Ground beef is cheaper. Same for ground turkey. And I often see boneless chicken breasts go on sale for $2 a pound. But real meat doesn't have the convenience of Spam. I love that a can of Spam can sit in the pantry indefinitely.
Most importantly, how did it taste? I liked it! For my own mental comfort, I needed to pan fry it and of course I could tell it wasn't a choice piece of meat, but it tasted pretty good for what it was. I liked the Spam, Egg, and Cheese English Muffin enough to have that 3 or 4 times I think. Then I tried making Spam Musubi (the ones that look like spam sushi). And finally, I cut the rest up into thin strips and fried them up so they were crispy and clumsily rolled those into a handroll with some sushi-seasoned rice. That handroll was my favorite way to eat it. I loved how the spam strips got all crispy crunchy.
And I still have one more can to play with. Then again, I'm not sure I'll get much experimenting in. I might just make a whole batch of handrolls. But I'll give my arteries a bit of a break before I go for another round of Spam. Thanks for the Spam, sis!
Spam, Egg, and Cheese English Muffin
Spam Musubi (spam 'sushi')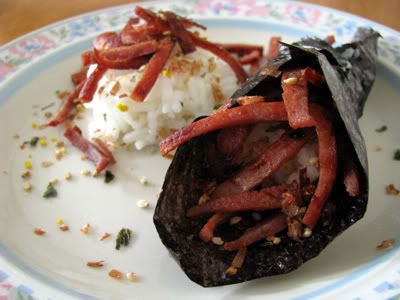 Spam Handroll
Thread at trashy_eats:
http://community.livejournal.com/trashy_eats/905608.html