Last December,
corvidophile
posted a
recipe for Prosciutto Pesto Egg Cups
. It looked incredibly simple to make and it yielded a cute little cup made of prosciutto that cradled an egg, cheese, and pesto. I love recipes that give me a good picture in the end and both my boyfriend and I love all the ingredients so this shot to the top of the list of recipes I wanted to try. WE LOVED IT. We made it 4 times in the space of 9 days, playing with variations on the fillings and also baking them in a ramekin, as suggested by Mark Bittman. Sadly, I didn't write down notes on my computer. There's probably a scrap of paper somewhere with notes that I'll find next week but in the meantime, I'll post this now since I've been meaning to do so for months now.
The instructions from
corvidophile
are simple:


Preheat oven to 400°F

Spray a cupcake/muffin tin with cooking oil

Fold long strips of prosciutto into a cup

Layer in some caraway havarti (or cheese of choice)

Add a generous dollop of pesto

Gently crack an egg in the cup

Add salt and pepper.

Cook for approximately 10 minutes or until done


I think the only variation we made for the first run was to add torn spinach and used whatever cheese we had in the house. We kept thinking that the egg whites looked runny so we cooked it for closer to 20 minutes. The yolk still wasn't as done as I prefer it. My boyfriend would've liked runny yolks but he wanted his egg whites to be set so he left his in the oven too. Verdict? Delicious. And we were going to make this again. (and again and again)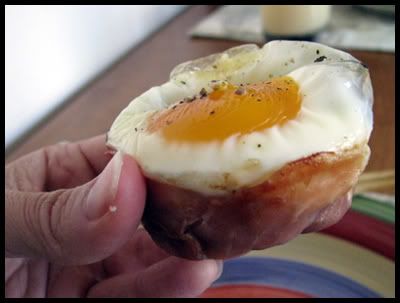 See? Isn't it so cute? You can even make it a finger food!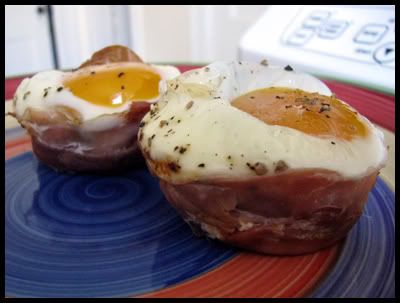 But you'll probably want to serve it up on a plate and eat it with a knife and fork like a civilized grown-up.
Trying to see if we could find different temperatures and cooking times that might yield a solid egg white and runny yolk, we turned to the web for other recipes. We never did manage to get solid whites and runny yolks, but we did find two other recipes that gave us more ideas for playing with the recipe.
The Culinary Chase
suggested caramelizing some onions to add (I liked this addition a lot) and
Mark Bittman
had you bake the eggs in ramekins.
Above, we've added a slice of prosciutto on the bottom, some caramelized onions and sauteed spinach, cheese, and then the pesto and egg. Below, my boyfriend is carefully sprinkling the cups with salt and pepper. Know why I love this photo? Because he hates cooking and yet he wanted to customize his egg cup (bleu cheese, lots and lots of pesto) and so he was in the kitchen too, fussing over his egg cups.
While I liked the ramekins for the ease in preparation (since you didn't need to make sure the prosciutto formed a cup), I missed the cute little presentation cups at the end. I tried to pry them out of their ramekins and while they will come out, it's not at all as cute. A bit scraggly and unappetizing that way. See what I mean?
But they look great in their ramekins. One of these days we're going to serve these for dinner guests. This recipe is quite adaptable.


Preheat the oven to 400F

Throw whatever ingredients you like into the ramekin. We like prosciutto, caramelized onions, cheese, pesto, and egg with salt and pepper.

Bake for 15 to 20 minutes to your desired level of doneness.

If you don't have prosciutto, you could throw in cooked bacon or ham. I imagine any vegetable you'd use in an omelette could work here if you pre-cook the vegetables. For cheeses, we've tried bleu cheese, shredded Irish cheddar cheese, gouda, and some other cheeses I've forgotten now. All have worked well.
And just for kicks, here's one more shot of the cute little Prosciutto Pesto Egg Cups. Can you tell that I love this dish?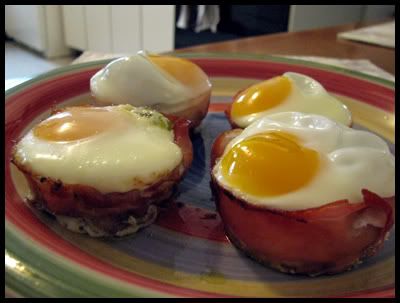 Thread in Cooking:
http://community.livejournal.com/cooking/7755143.html
Post from Corvidophile:
http://community.livejournal.com/cooking/7142125.html
Mark Bittman Article:
http://www.nytimes.com/2007/12/26/dining/26mini.html?_r=1
Mark Bittman Recipe:
http://www.nytimes.com/2007/12/26/dining/261mrex.html
Post from The Culinary Chase:
http://theculinarychase.blogspot.com/2006/09/eggs-in-prosciutto-baskets.html