I love fried fish. So does my boyfriend. But this is not a post about fried fish. While I love the smell of anything frying, Brian feels nauseous at the smell of frying oil. So I've been banned from trying to fry fish at home. Alas. I would like to learn to make fried fish. I keep meaning to try it whenever he's out of town on business trips.
Recently, Brian and I were having dinner with friends and Suzanne served up what she called a simple meal of baked cod, green beans, buttered pasta, and fresh bread. Delicious. Most excitingly to me, Brian enjoyed the fish and had not smelled it cooking while we were there and I was trying to coax their French-speaking 3-year-old daughter to talk to us. (I regard kids who speak any non-English languages as little child prodigies even if that other language is the ONLY language they know.) Back to the main point. The fish was tasty and didn't smell bad. Hooray! I could cook this at home and get some more omega-3 fish oil into our diets.
One note of caution about the fish. Cod (and white fish in general) can have worms in them. It doesn't happen so often that you should expect to see worms every time you see fish but it happens regularly enough that it's not entirely unexpected either. They're harmless for the most part. Apparently you're supposed to just remove the worms and continue preparing the fish. Google cod and worms for more details. I don't think my cod had worms but I didn't know to look for them and I didn't do my Google search until after we had eaten all the fish.
The recipe turned out to be very simple indeed. The basil got a little dried out so I think next time I'll mix the shredded basil up with the diced tomatoes first. Served this with some zucchini and rice. Very satisfying!
Suzanne's Baked Cod
1 lb cod fillets
1 can diced tomatoes, with juice
1 can black olives (optional)
1/2 cup fresh basil
some butter
some salt


Preheat oven to 350F.

Toss butter in pan and let pan sit in preheating oven to melt butter. Remove pan when the butter is melted.

Place fish in pan. Sprinkle some salt onto the fish.

Slice up the basil into little strips and sprinkle basil over fish.

Open can of tomatoes and pour contents (including tomato juice) over the fish.

If using olives, open can of olives and pour over fish. (Maybe drain the olives? I'm not sure on that point...do whatever you normally do with olives. I don't usually eat olives so I don't know what's involved here.)

Bake uncovered for 30 minutes.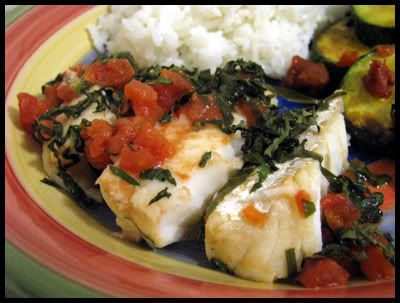 Thread in Cooking:
http://community.livejournal.com/cooking/7794032.html