This recipe is getting invited back because it hints of fried chicken, but it's baked so there's no hot oil popping and burning my skin. It was simple to make and my boyfriend loved how it tasted. I used two chicken legs with each leg cut into two pieces (a thigh and drumstick). I left the skin on and with the coating, it formed a nice crisp (though not extra crunchy) crust. I liked how it tasted but wanted it to have a little more oomph. Maybe I'll try brining the pieces first next time. I'll have to look up how to do that. Any suggestions?
County Fair Chicken
1/2 cup grated parmesan cheese
1/4 cup flour
1 teaspoon paprika
1/2 teaspoon salt
pepper
2 1/2-3 lbs chicken pieces
1 egg, slightly beaten
1 tablespoon milk
1/4 cup butter or margarine


Pre-heat oven to 350F.

Combine Parmesan cheese, flour, paprika, salt, and pepper.

Mix egg and milk.

Dip chicken in egg mixture, then coat with cheese mixture.

Place in 11 3/4 x 7 1/2 inch baking dish.

Melt butter in microwave, and pour butter over chicken.

Bake at 350 degrees for 1 hour.

Found this recipe here:
http://www.recipezaar.com/County-Fair-Chicken-88890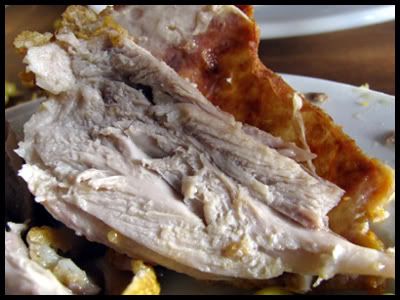 Cooked all the way through yet still moist.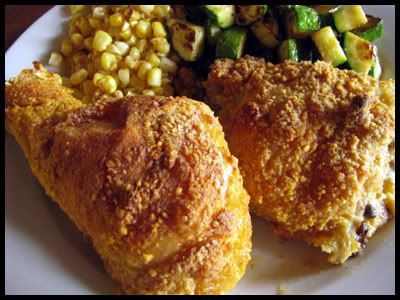 Served with Skillet Corn-off-the-cob and Zucchini
Thread in cooking:
http://community.livejournal.com/cooking/7989391.html