I've been feeling like I needed to increase the variety of vegetables I cook since I've fallen into something of a veggie rut. Lately, I cook zucchini, cauliflower, potatoes, and corn. I eat other vegetables when we eat out but at home, I keep cooking the same things. Granted, I love how I cook these so I'm not tired of eating them. I just thought I should try cooking some new vegetables too. Any suggestions?
I spotted this bunch of salad turnips at the Farmers' Market recently. I vaguely remembered trying a slice of turnips somewhere that was surprisingly sweet. The farm even had a recipe printed out that said you could be eating "Tender Roasted Turnips" in 30 minutes, so I decided that should be my experimental veggie.
In the end, the turnips were as tender as promised with practically creamy insides. I overcooked them a little since I had cut them into smaller cubes. Also decided to prepare the greens as well but didn't care as much for those.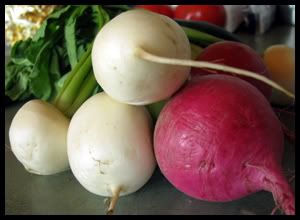 Don't they look pretty?
Here we have the turnips, prepared for cooking. I've washed and chopped the greens and peeled and cut the turnips.
Tender Roasted Turnips
Total time: 30 minutes
Recipe from New Roots Farm, Newmarket, NH
www.newrootsfarm.com
Ingredients
1 bunch organic salad turnips, trimmed, peeled and cut into 1-inch cubes
1 Tbsp unsalted butter
salt
pepper


Preheat the oven to 500F and put the rack in the middle position


In a small skillet, melt the butter


In a medium bowl, toss the turnips with the butter and season them generously with salt and pepper.


Spread the turnips evenly onto a roasting pan with room between the pieces. Roast, tossing and shaking the pan once or twice, until they're tender and brown in spots, 25-30 minutes.

Sauteed Turnip Greens
This was adapted from an Epicurious recipe for Leon O'Neal's Turnip Greens.
Ingredients:
1 large bunch turnip greens
1 small turnip, peeled and diced
Dash of sugar
6 slices bacon, diced [substituted 3 slices of sweet capicola since I was out of bacon]
1 onion, diced
1 tablespoon lemon pepper [used just ground black pepper]
Salt to taste
splashes of balsamic vinegar [optional]


Wash the greens in several changes of water in the sink until no more grit is seen.


Chop the greens coarsely.


Cover the greens and chopped turnip with water and bring to a boil. Boil for a minute and then drain the water. (I think I read somewhere this reduces the bitterness.)


Cover with more water and add the sugar. Boil for 12 to 15 minutes, or until tender. Drain. [I cooked for more like 8 minutes I think.]


In a large skillet, sauté the bacon until it gives up its grease.


Add the onion and cook 7 minutes until the onion is soft.


Toss the greens with the bacon and onion. Add the lemon pepper and salt. Splash with balsamic vinegar if using.

Original Turnip Greens Recipe:
http://www.epicurious.com/recipes/food/views/Leon-ONeals-Turnip-Greens-108862
---------
I really liked the Tender Roasted Turnips and plan to make it again even though my boyfriend doesn't like turnips. I'll need to find a different way to prepare the greens though.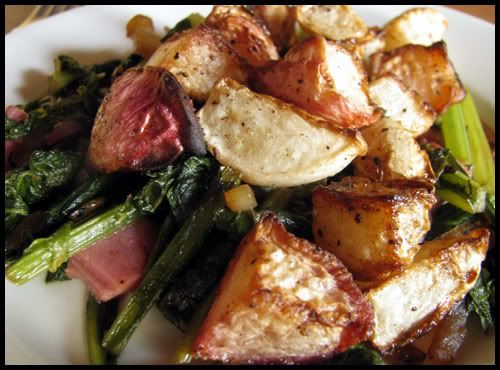 Thread in vegrecipes:
http://community.livejournal.com/vegrecipes/1612693.html