Sorry I couldn't come up with a shorter and catchier name but at least the finished result is pleasing enough that I made up a second batch immediately. (OK, so I made the second batch because I had all the ingredients on hand already but I would've wanted more anyhow.)
Came up with this side dish to accompany
Chicken Breasts in a Middle Eastern Marinade
. The olives really make this dish. I had set aside half for Brian since he didn't like olives, and then I mixed in olives for the other half for myself. Side-by-side taste test found that you really need the olives. Without olives, it's not bad...but it's nothing special either. It tastes kind of like the salad toppings without the greens. But with the olives, it's quite interesting. Yummy. Brian even preferred them with the olives.
Chickpea Tomato Cucumber Olive Salad
1 can of chickpeas, drained and rinsed
1 tomato
half of a cucumber
5 olives (I used black kalamata olives)
2 tsp olive oil
1.5 tsp balsamic vinegar
salt & pepper


Drain and rinse the chickpeas.


Peel the cucumber in alternating stripes lengthwise. Cut cucumber lengthwise and scoop out the seeds. Cut cucumber into slices or bite-size chunks according to your preference.


Chop tomato into chunks.


Remove seeds and chop olive into little pieces.


Mix together chickpeas, cucumber, tomato, olives, olive oil, and balsamic vinegar. Add salt and pepper to taste.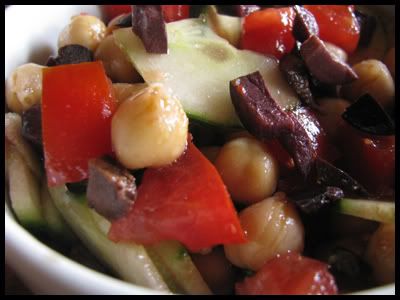 Thread in vegrecipes:
http://community.livejournal.com/vegrecipes/1615545.html
Cobbled the recipe together by mixing the 2 recipes below.
http://www.culinarymelange.net/2009/07/chickpea-cucumber-salad/
http://www.grouprecipes.com/53505/vegan-yummy-chickpea-tomato-cucumber-salad.html