I love it when a dish is both quick and easy to prepare. To make things even faster, you could mix up the seasoned flour and pre-chop the pecans and just keep them in tupperware containers until you're ready to cook. I served these with roasted spiced sweet potatoes (which were awesome and I'll post those separately).
Honey Pecan Pork Cutlets
Serves 4
Ingredients:
4 pork cutlets, pounded to 1/4-inch thick
1/3 cup all-purpose flour
1/2 teaspoon salt
1/4 teaspoon ground black pepper
1/2 teaspoon garlic powder
1/4 teaspoon crushed red pepper (optional)
1 Tablespoon butter
1/4 cup chopped pecans
1 Tablespoon honey


Mix flour with salt, pepper, garlic powder, and crushed red pepper (if using). Dust surfaces of pork with seasoned flour.


Melt butter in large heavy skillet over medium-high heat; brown cutlets on both sides and then move the cooked cutlets from pan to warm plate. About 3 to 5 minutes on each side.


Toast pecans in skillet and then stir in honey. (Careful...honey gets really hot. Don't burn yourself.)


Add back cutlets to warm through and then serve cutlets with the honeyed pecans.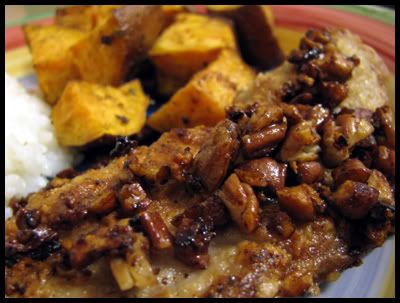 Basically followed these two recipes:
http://www.pdnhf.org/detail.asp?dt=topics&fr=s&id=331
http://www.cooksrecipes.com/pork/honey_pecan_pork_cutlets_recipe.html
Thread in Cooking:
http://community.livejournal.com/cooking/8050217.html