Looking for new ideas for cooking pumpkin? I first made this soup in 2007. My boyfriend, Brian, liked this so much he ate three bowls of it while standing in front of the stove. Why would I then wait so long before posting? Because my photos made it look like unappetizing baby food with the consistency of applesauce. But! It tasted great. And now I have a better photo so I can share this recipe with you.
Spiced Pumpkin and Shrimp Soup
2 medium onions, sliced
2 medium carrots, sliced (1 cup)
1 tsp five-spice powder (optional)
1/2 tsp paprika
2 cloves garlic, minced
1 Tbsp butter
1 14-ounce can chicken broth
1 15-oz can pumpkin puree (1 3/4 cup)
1 cup milk
1 Tbsp maple syrup
1 Tbsp brown sugar
1 8-ounce package frozen peeled and deveined shrimp, thawed
Old Bay seasoning
For the pumpkin (Skip if you're using canned pumpkin)
:
Preheat oven to 400F.

Cut the pumpkin in half, scoop out the stringy pulp and seeds, and cut into 4-inch pieces.

Sprinkle pumpkin pieces with some salt and pepper and place in an oiled pan, rind side down.

Cover with foil and bake pumpkin at 400F for 60-minutes.

Remove from oven and let cool. When you can handle it, scrape the pulp out of the pumpkin, and discard skins.

Transfer to a blender and process until smooth. Set aside.

some of the ingredients being sauteed
Rest of soup:
While pumpkin is roasting, slice the onions and carrots.

In a large saucepan, cook onions, carrots, five-spice powder, and paprika in hot butter.

Cover and cook for 10-12 minutes until vegetables are tender, stirring once or twice. After about 7-8 minutes, add the minced garlic.

Transfer vegetable mixture to a blender container or food processor bowl. Add 1/2 cup of chicken broth. Cover and blend or process until nearly smooth.

Shrimp:
Sprinkle shrimp with Old Bay seasoning and stir-fry briefly until it's cooked. Set aside.

Bring everything together:
In the big saucepan, combine the remaining 1 1/4 cups broth, pumpkin puree, and milk.

Stir in the maple syrup and brown sugar.

Stir in blended vegetable mixture and shrimp.

Heat through.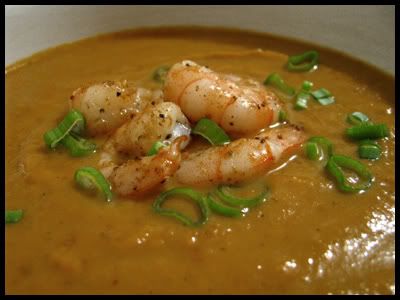 Spiced Pumpkin and Shrimp Soup
Recipe adapted from the recipe in the
New Better Homes and Gardens Cookbook, 12th Edition
.
Thread in food_porn:
http://community.livejournal.com/food_porn/5589925.html