Here's another recipe from my friends list.
angel_vixen
posted this amazing recipe that has been met with rave reviews both times I've made this now. I modified it slightly to use less honey (because I'm running low on honey and my boyfriend doesn't like things to taste too sweet). She originally made it with boneless chicken breasts, but I've made it with pork cutlets since that's what I had at home from this month's meat CSA share. First time served up with some curry-roasted cauliflower. Second time we paired it with green beans and mashed potatoes. Very satisfying meal for not much effort.
Angel_Vixen's Honey-Mustard Pork (or Chicken)
Serves 4.
Ingredients:
4 pork cutlets
1 cup dry seasoned bread crumbs
2 tablespoons Dijon mustard
3 tablespoons honey
2 tablespoons butter


Flatten the cutlets to a quarter-inch in thickness.

Put the dry bread crumbs in a shallow bowl.

In another bowl, combine 2 Tbsp mustard and 2 Tbsp honey.

Dip the flattened meat into the honey-mustard mixture, then coat with crumbs.

Melt butter in a skillet over medium heat. Cook the pork cutlets about 2-3 minutes a side.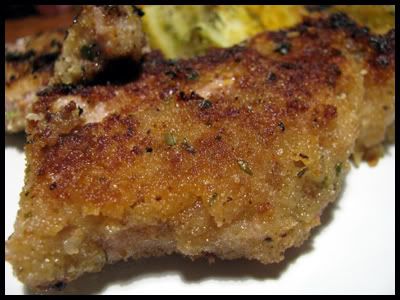 Original Recipe:
http://aingealnacistin.livejournal.com/1947.html