Ever eat something at a restaurant and have that dish linger long in your memories? That's how it was when my sister took me to
The Helmand in Cambridge, MA
, for my birthday. I don't know what food from Afghanistan is supposed to taste like but I loved everything. In particular, I loved the appetizer, Kaddo Bourani, that my sister got. It didn't sound like the sort of thing I would like since it involved a yogurt sauce and pumpkin and I don't care all that much about either of those things. But when I tasted it, I was a convert. The sweet hot pumpkin mixed with the tang of the cold yogurt sauce and then melded with the hot savory ground beef sauce. (They also offered this as a vegetarian option by leaving out the meat sauce.) The blend of flavors, textures, and temperatures made me sigh happily. When I got home, I looked on the restaurant's website to see if they shared the recipe and they didn't. Alas. If you're in San Francisco or Boston, I heartily recommend making reservations to eat at The Helmand.
When I was looking for pumpkin recipes last month, I stumbled upon
The Recipe
! I read it eagerly and was surprised to see that it required baking the pumpkin for over 3 hours. Not something to make on a whim. Well I finally tried it and it was worth every moment of waiting. The hardest part was preparing the pumpkin. The rest of the recipe is fairly simple and straight-forward. But it did take a long time. I kept going over to check on things. By the time I was done cooking, eating, and cleaning everything up, I lay down and noticed, "Wow...my FEET are sore from all that cooking and cleaning." But you know what? I loved it. I couldn't believe that something that tasted so good had come out of my kitchen. I only regret that the stores around here seem to sell fresh pumpkins only for Halloween. So I guess I'll have to wait until next year to make this again.
(If anyone in Boston or Seacoast New Hampshire knows where I could buy some sugar pumpkins, please let me know!)
Kaddo Bourani
INGREDIENTS
For the pumpkin:
2 Sugar pumpkins, each about 3 pounds [with 3 cups sugar, maybe you could even use a big pumpkin.]
6 tbsp corn oil [I used olive oil since that's what I had.]
3 C sugar [I couldn't do it. I used 2 cups sugar and probably should've used 2.5 cups.]
For the yogurt sauce:
2 C plain yogurt
2 garlic cloves, minced [I used 3 cloves since we love garlic.]
1 tsp dried mint
1/2 tsp salt
For the meat sauce:
(Skip this part if you're preparing the vegetarian version. Or maybe you could use fake ground meat?)
1/4 C corn oil [again, used olive oil]
1 large onion, finely diced
1 1/2 lbs. ground beef [I used 1 lb of ground lamb -- delicious!]
1 large tomato, seeded and finely chopped
2 large garlic cloves, minced
1 1/4 tsp ground coriander
1 1/2 tsp salt
1 tsp freshly ground pepper
1/2 tsp ground turmeric
2 tbsp tomato paste
1 1/3 C water
DIRECTIONS
Make the pumpkin:


Preheat your oven to 300º.


Wash off the outside of the pumpkins. Cut them in half. Scrape out the stringy stuff and seeds on the inside. (We pan-fried the seeds for a snack while we waited for the pumpkin to finish cooking.)


Cut the halves into 3″-4″ pieces or so. I then trimmed the ends so that I had a main rectangular piece about 3" by 4" and then some triangle-shaped smaller bits. I don't think the shape really matters.


Peel the pumpkin pieces. You can use a vegetable peeler for this, though it helps to have a sharp paring knife to get the stem and hard-to-reach rind bits off. Peel it deeply enough that you get rid of all the green and rind.


Find a baking pan large enough to hold all the pumpkin pieces in a single layer. Use multiple pans, if need be. I lay down a layer of foil in the pans first to make cleaning up easier.


Cover the pumpkin pieces in the oil (yes, really, use all of it), and place them hollow side up in the pan(s).


Pour the sugar evenly over the pumpkin pieces (yes, really, just grit your teeth and use all of it.) [Three cups of sugar seemed like an awful lot of sugar. My boyfriend doesn't even like really sweet things so I went with just 2 cups of sugar. It tasted great but next time, I think I could use 2.25 to 2.5 cups of sugar and still be fine.]


Cover the pan(s) with aluminum foil. Bake for 2 1/2 hours, then baste the pieces with the pan juices, cover them up again, and bake for another 45 minutes. [For timing, I recommend that when you first put the pumpkin in the oven, you then prepare the yogurt sauce and set that aside in the refrigerator until you're ready to eat. After 2.5 hours, baste the pumpkin and then while you wait for the final 45 minutes of baking, prepare the meat sauce and it should be ready about the time the pumpkin is ready.]


The sugar will all melt away and end up partially absorbed. The pumpkin pieces will turn dark orange and translucent. They will have a stunningly novel texture. It is a beautiful thing.


Pumpkin Pieces in the pans after being cooked
Make the yogurt sauce:


Mix all the ingredients together. Refrigerate, covered, until ready to serve.
Make the meat sauce:


Brown the onions in the oil in a heavy-bottomed saucepan.

Add the meat and cook over medium-high heat, stirring, until it is broken up into small pieces and the pinkness is almost entirely gone.

Add all other ingredients (except for the tomato paste and water) and cook, stirring, for another 5 minutes or so.

Stir in the tomato paste, then add the water and bring to a boil. (Really, it will probably boil as soon as it touches the pan.)

Lower the heat and let simmer, covered, for about 15 minutes.
Serve:
Hot pumpkin, topped with cold yogurt sauce, topped with hot meat sauce.
Close-up of the finished dish.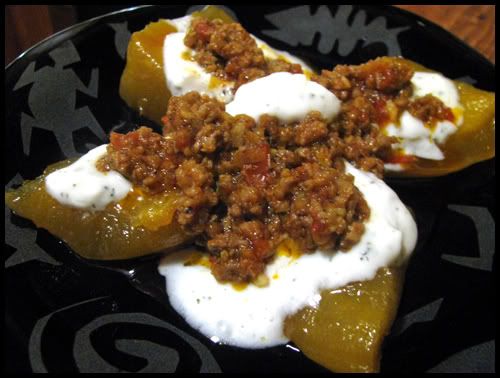 Here's a small plate with the triangle-shaped pieces. Perfect presentation for an appetizer-sized portion.
Strangely, I went back and looked up my photos from The Helmand. This dish tasted so good that I had this shining image of the dish in my head. But when I look at the photo, it was presented in a rather unappetizing heap. Maybe it's just the photo taken in dim lighting but seriously...Mine came out looking so much nicer! (The rest of the food from that night looks much better in the photos.)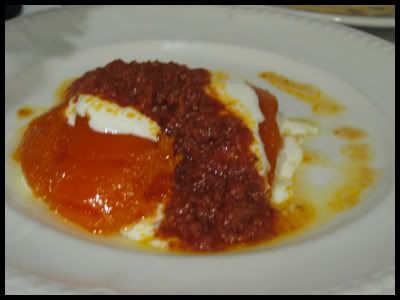 Kaddo Bourani from The Helmand
See? Doesn't mine look much nicer?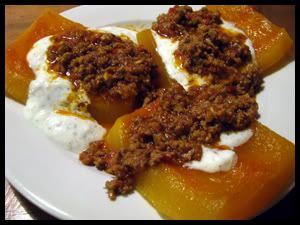 Here's a final shot of the Kaddo dish. This plate was made with the bigger pieces and served as a dinner entree.
For reference:
Thread in food_porn:
http://community.livejournal.com/food_porn/5607717.html
SF Gate recipe:
http://www.sfgate.com/cgi-bin/article.cgi?file=/chronicle/archive/1998/10/28/FD78824.DTL
The page I found with the recipe:
http://habeasbrulee.com/2006/10/20/kaddo-bourani-pumpkin-with-yogurt-and-meat-sauces/
Another blogger's version of this recipe:
http://mikes-table.themulligans.org/2007/11/07/kaddo-bourani/