Time to post one of my favorite vegetable dishes. Adapted
Curry-Roasted Cauliflower
and came up with my new favorite cauliflower dish. Adjusted the level of the spices so that I wasn't weeping from the spiciness like before. Now the spiciness is balanced with some sweetness from the honey.
Bonus recipe: Learned how to use the cauliflower leaves too!
Try making
Cauliflower Leaf Pakoras
for something different.
Honey Curry-Roasted Cauliflower
1 head cauliflower, cut into small florets
1/3 cup extra virgin olive oil
1/4 cup honey
1/2 teaspoon salt
1/8 teaspoon freshly ground pepper
1 teaspoon garam masala (or curry powder)
1 1/2 teaspoons black or yellow mustard seeds


Preheat the oven to 425 degrees F.

Mix the dry seasonings together. (salt, pepper, garam masala and mustard seeds).

Mix the dry seasoning mix with the olive oil and honey.

Coat Cauliflower with mix.

Spread seasoned cauliflower evenly in a single layer on a rimmed baking sheet or in a large roasting pan. Try not to crowd the cauliflower; otherwise, it will steam and you won't get the delicious caramelized bits.

Roast for 20-25 minutes, shaking the pan and stirring the cauliflower midway through roasting.

Transfer to a serving dish and taste for seasoning, you may need another sprinkle of salt and a grinding of fresh pepper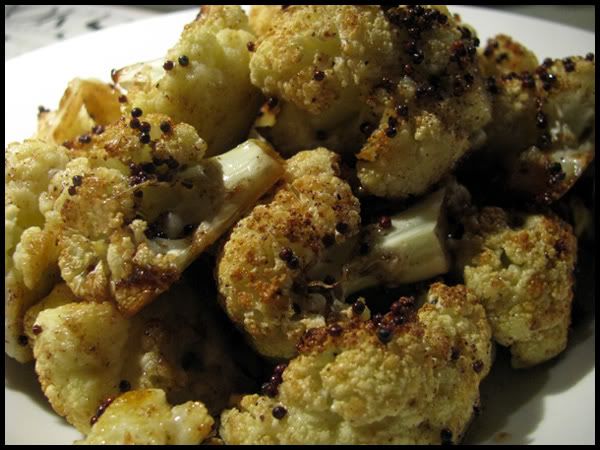 Thread in vegrecipes:
http://community.livejournal.com/vegrecipes/1653576.html