One of my former roommates made a version of African Chicken Peanut Soup and let me try some. I didn't think I would like something called peanut soup but I thought it was a very comforting soup on a cold winter's day. My boyfriend Brian agreed that it's a satisfying soup although he doesn't like the particular flavor combination, partly because he keeps expecting it to taste like peanut butter. It's more like a chicken soup with a nutty undercurrent.
I cobbled this recipe together after mixing together a bunch of recipes based on what I had in the house. This soup was a little on the thin side. I let it simmer for 2 hours to make the broth. Deboning the chicken took a lot longer than I wanted since I hadn't done that in a while. But it made a big batch of soup so I was able to enjoy this for several days.
African Chicken Peanut Soup
Ingredients:
1/2 chicken, with bones (Cut out the breasts to cook later)
1 gallon water (enough cold water to cover chicken)
2 onions, roughly chopped
4 garlic cloves, smashed
1 tsp salt
1 1/2 tsp curry powder
1/2 tsp crushed red pepper flakes
1/2 tsp ground black pepper
1 can (28-ounce) crushed tomatoes, with juice
1 cup of chunky peanut butter
1 14-ounce can of coconut milk (optional)


Combine chicken, water, onion, garlic, and salt in a large stock pot and bring to a boil.


Lower heat and simmer for 1.5 to 2 hours, uncovered, skimming off foam as needed.


Test chicken with a fork to determine when it's tender and fully cooked. If cooked, shred chicken and discard the bones, fat, skin, and gristle.


In a separate bowl, mix together curry powder, crushed red pepper flakes, and ground black pepper and dry-toast them in a skillet. (for 30 to 60 seconds until fragrant)


Add peanut butter with some of the broth to mix it together with the spices in that skillet.


Add crushed tomatoes to the broth.


Add in the peanut butter and broth mixture along with the shredded chicken and can of coconut milk (if using) and simmer everything for another 20 minutes.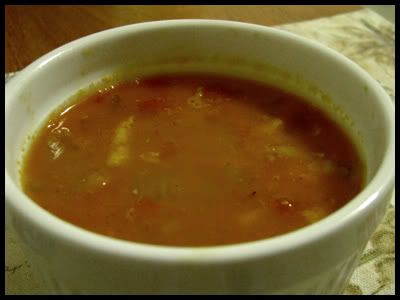 Thread in cooking:
http://community.livejournal.com/cooking/8286737.html
List of Recipes I Looked At:
http://www.worldfamousrecipes.com/chicken-soup-recipes.html
http://www.publix.com/wellness/notes/Display.do?id=Recipe&childId=Chick_Peanut_Soup
http://gourmetfood.suite101.com/article.cfm/african_chickenpeanut_soup
http://comestiblestation.blogspot.com/2008/05/senegalese-chicken-peanut-soup.html
http://www.rachaelraymag.com/recipes/soup-stew-choup-recipes/chicken-peanut-soup/article.html
http://www.recipezaar.com/Senegalese-Chicken-and-Peanut-Soup-109454
http://www.cooks.com/rec/doc/0,1948,153176-225201,00.html
http://allrecipes.com/Recipe/African-Peanut-Soup/Detail.aspx