Very simple recipe. Tastes delicious on its own or served as a side dish. I've been loving it with lamb dishes.
I've started making big batches of this spice blend (4 times the given recipe) so that all I have to do is toss the sweet potatoes with 3 Tbsp of oil and about 2 tsp of the spice mix on nights when I want to make this. Some reviewers mentioned this blend works well with other vegetables too. One person loved it with zucchini.
Roasted Spiced Sweet Potatoes
yield: Makes 4 to 6 servings
active time: 10 min
total time: 45 min
ingredients
* 1 teaspoon coriander seeds (or ground coriander)
* 1/2 teaspoon fennel seeds
* 1/2 teaspoon dried oregano
* 1/2 teaspoon dried hot red pepper flakes
* 1 teaspoon kosher salt
* 2 lb medium sweet potatoes
* 3 tablespoons vegetable oil
* 1/2 to 1 tsp of garlic powder
* 1/2 tsp of onion powder


Preheat oven to 425°F.


Coarsely grind coriander, fennel, oregano, and red pepper flakes in an electric coffee/spice grinder or with a mortar and pestle. Stir together spices and salt.


Cut potatoes lengthwise into 1-inch wedges or cross-wise into chunks. (I like to cut them smaller than this so they'll cook faster in about 20-25 minutes total.)


Toss cut potatoes with oil and spices in a large roasting pan and roast in middle of oven 20 minutes. Turn wedges over with a spatula and roast until tender and slightly golden, 15 to 20 minutes more.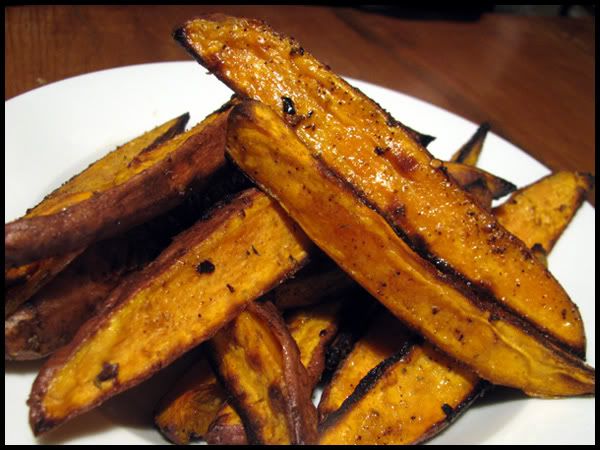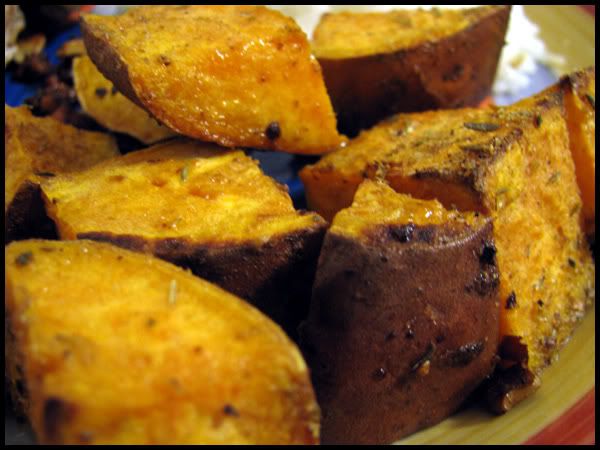 Adapted this recipe:
http://www.epicurious.com/recipes/food/views/Roasted-Spiced-Sweet-Potatoes-106070