My memory's going. I've been trying to use up food that's been sitting around in my kitchen for too long. I've been pawing through things that have lingered in the cupboards and hidden away in the back of the fridge. Found some frozen strawberries and was very pleased with myself when I threw some in a blender with a cup of yogurt and made myself a quick and delicious smoothie. Then I went to my computer to tell you about it only to find that I had already made that particular discover 4 years ago with the
Banana Strawberry Smoothie
.
And the other night, as I went to put my dirty dishes away after dinner, I saw a glass of wine sitting on the counter. "Oops. I meant to drink that with dinner. And I was thinking about having wine all day. Do you think I'm becoming an alcoholic?" I asked my boyfriend.
"No. An alcoholic wouldn't forget to drink a glass of wine."
"But I've been thinking about alcohol a lot lately. Maybe I'm just a forgetful alcoholic?"
"No. A forgetful alcoholic would pour a glass of wine, drink it, and forget that they'd had a glass of wine, pour a new glass, and drink that too. You're just forgetful."
It's true. With the sub-freezing temperatures we've been having, I wanted a hearty stew. While I thawed out a package of Lamb for Stew, I searched the web for a good lamb stew recipe. Found an Alton Brown recipe with good reviews that looked easy enough. And it used barley! I had a small bag of barley that I needed to use up. Perfect. I also threw in the rest of a bag of dried small white beans that I had soaked overnight and cooked up too. I was so pleased with the results I sat down at my computer again to write up notes so I could post this only to realize -- Hey! I made this last September already. I liked it then too.
And I still like it. So now I'll post this before I forget again.
Barley and Lamb Stew
Adapted from Alton Brown's
recipe
Cook Time: 1 hr 10 min
Level: Easy
Yield: 4 to 6 servings
Ingredients
2 pounds boneless lamb shoulder, trimmed of fat and cut into bite-size pieces
1/4 teaspoon kosher salt
1 teaspoon freshly ground black pepper
1 tablespoon all-purpose flour
1 tablespoon olive oil, divided
4 medium carrots, cut into 1/4-inch rounds
1 large onion, roughly chopped
4 cloves garlic, minced
1 cup barley grits [used medium barley since I couldn't find barley grits]
4 cups chicken broth
2 teaspoons freshly chopped oregano [used 1 tsp dried oregano]
1 14-ounce can of cannellini beans (or cook up some dried small white beans) (optional)
Directions


In a medium mixing bowl, toss the lamb with the salt, pepper and flour. Flour ends up just lightly coating the lamb.


Heat 1/2 tablespoon olive oil in a 4 to 5-quart Dutch oven set over medium-high heat until it shimmers. Add half of the lamb, and brown on all sides, approximately 7 to 8 minutes total. Remove the lamb to a bowl and repeat with the remaining oil and lamb. Remove the second batch of lamb to the bowl.


Add the carrots and onions to the pot. Saute the carrots for 3 minutes, stirring occasionally.


Add garlic and saute another minute.


If using beans, add those to the pot.


Return all of the lamb to the pot along with the barley and stir to combine. Add the chicken broth and bring to a boil. Once boiling, decrease the heat to low, cover and simmer for 30 to 45 minutes or until the liquid is absorbed and the lamb and barley are tender.


Five minutes before the stew is finished, add the oregano. Taste for seasoning and add salt and pepper as desired. Serve in bowls.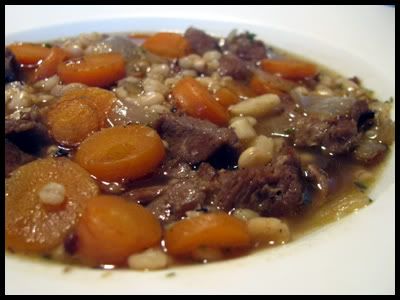 Recipe courtesy Alton Brown, 2006
Show: Good EatsEpisode: Just Barley
Original Recipe:
http://www.foodnetwork.com/recipes/alton-brown/barley-and-lamb-stew-recipe/index.html