Back when I didn't like to cook, my boyfriend at the time said he loved to curl up with a pile of cookbooks. This had seemed like a bizarre pasttime and yet I've learned to love doing the same thing. Problem is that I'd quickly run out of bookshelves (and cash) if I bought every cookbook I wanted to look at. Hooray for the library! I've been checking out piles of cookbooks and thumbing through for ideas. Good thing too, because some of them turn out to be fun to look at but not really something I'd want to keep around all the time.
So on a night when I was thumbing through
Flatbreads and Flavors
by Jeffrey Alford, I found this flavor combination and thought I'd try it on some lamb chops. Looked simple enough. It was such a perfect balance of savory with a bit of spicy heat but not too much. The great thing about shoulder chops is that they're a less expensive cut of meat and there's plenty of fat. Fat is where the flavor is! Do not fear the fat. Do not be tempted to trim away all the fat before you cook it. I tried trimming and it was still good but not nearly as good as the full-fat version. Plus it seemed to cook faster and I overcooked it a little. Without the fat, it didn't do that amazing meat plus melting fat taste and texture with each bite. At least cook it with all the fat and then trim away the fat at the end when you're ready to serve. Oh and if you like bone marrow, don't forget to slurp out the bit of marrow in the circular piece of bone. Heaven!
You can also use pork chops instead. I made Spicy Cumin Pork Chops with Grilled Pineapples and Caramelized Onions and that was another night for very satisfied tummies. And another time we tried this with goat loin chops and were still very happy with it.
Spicy Cumin Lamb Shoulder Chops
Ingredients:
2 lamb shoulder chops (weighed total of 1.2 pounds)
meat tenderizer
1.5 tsp ground cumin
1/2 tsp ground black pepper
1/2 tsp salt
1/4 tsp cayenne pepper
Directions:


Sprinkle some meat tenderizer on both sides of the lamb shoulder chops. Let sit for no more than 30 minutes. (10-15 minutes is probably enough)


Mix together ground cumin, black pepper, salt, and cayenne pepper. Rub the spice mix on all sides of the lamb chops.


Heat up some vegetable oil in a heavy skillet over medium high heat.


Cook the chops 1.5 minutes on each side. Lower the temperature to medium heat and cook it for maybe another minute on each side. Stand the meat up on its sides to get the fat a little crisper. This was enough to get the meat to medium doneness (still pink in parts but not bloody). This will vary for your chops and your stove so watch carefully to avoid overcooking the meat and making it tough.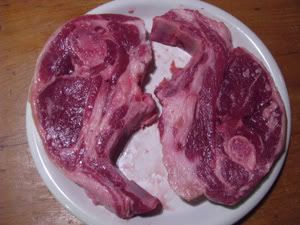 See what I mean about shoulder chops being a fatty cut of meat?
Have you fallen in love with this yet? I make a quadruple batch of the spice mix and keep it handy for a quick meal.
Thread at Cooking:
http://community.livejournal.com/cooking/8526371.html