I love it when my monthly share of meat includes sausage. Greek Lamb Sausage, Sweet Italian Pork Sausage, Garlic and Cheese Pork Sausage, and Breakfast Sausage....all yum! One month, when we hadn't received any sausage but had received some ground pork, I poked around online, looking at descriptions of making your own sausage meat. Settled on this recipe which has turned out to be used quite often.
Dishes I've used the resulting sausage in:
- Breakfast Sausage Patties served with eggs, fried bananas, and toast
- Breakfast Sandwich of sausage and eggs in a Portuguese Muffin (or use English muffins)
-
Spaghetti con Salsiccia (Spaghetti with Sausage)
-
Ziti with Sausage, Onions, and Fennel
-
Sausage Pasta Bake
- Zucchini and Sausage Mix (haven't posted this one yet)
Brian even sniffed the spice mix, sprinkled a good bunch of it into a bit of olive oil, and then dipped bread into that. Tasted yummy. This is another spice mix that I now mix up in quadruple batches so that I can keep it on hand. I was hesitant at first to use the breakfast sausage in savory dinner dishes but it tasted great to me. I assume it would taste even better if I branched out and made other sausages. I spotted a few books on Charcuterie that I want to get from the library including Michael Rulhman's
Charcuterie : the craft of salting, smoking, and curing
and also
Charcuterie and French Pork Cookery
by Jane Grigson. Have I mentioned how much I love the library?
In the meantime, does anyone have any suggestions on other spice mixes for making sausage?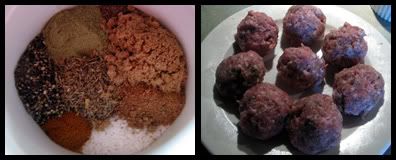 Here we see the spices measured out on the left. On the right, the meat has been divided and is now ready to form patties before being cooked.
Breakfast Sausage
Ingredients:
2 1/2 pounds ground pork
2 teaspoons kosher salt
2 teaspoons freshly ground black pepper
1 teaspoon ground sage
1 teaspoon ground thyme
1/4 teaspoon ground allspice
1 tablespoon brown sugar
1/2 teaspoon ground nutmeg
1/4 to 1/2 teaspoon cayenne pepper
Directions:


Combine salt, black pepper, sage, thyme, allspice, brown sugar, nutmeg and cayenne pepper in a small bowl. Mix well.

Pat ground pork into a 12 x 18-inch rectangle. Sprinkle spice mixture evenly over pork. Mix well. Using a scoop or 1/4 cup measure, form patties about 1/2-inch thick. Place on a tray. Refrigerate for up to a week or freeze for up to 3 months. Yield: 21 patties.

To pan-fry, saute patties over medium-low heat in a non-stick pan, about 7 minutes per side.

To bake, preheat oven to 400 degrees F. Arrange patties on a baking sheet and bake for 15 to 18 minutes, or until center is no longer pink.

I had made a smaller batch with 1 pound of meat and made thinner patties so mine cooked a little faster (maybe 3 to 5 minutes on each side). If you have some really ripe bananas to use up, melt some butter in a pan over medium-low heat, add the bananas, and fry until they're lightly browned and soft and mushy. The sweetness of the fried bananas paired beautifully with the breakfast sausage.

Quadruple Batch of Homemade Breakfast Sausage
Use about 5 tsp spice mix for 1 pound ground pork.
8 teaspoons kosher salt
8 teaspoons freshly ground black pepper
4 teaspoon ground sage
4 teaspoon ground thyme
1 teaspoon ground allspice
4 tablespoon brown sugar
2 teaspoon ground nutmeg
1 teaspoon cayenne pepper
Also used the sausage to make pasta dishes
We also had the sausage in pasta dishes. Sometimes following recipes, sometimes just throwing whatever we had available into the sauce.
-
Spaghetti con Salsiccia (Spaghetti with Sausage)
-
Ziti with Sausage, Onions, and Fennel
-
Sausage Pasta Bake
Got this recipe from One Perfect Bite:
http://oneperfectbite.blogspot.com/2009/11/homemade-breakfast-sausage.html