I love corn on the cob but for some reason, it's not something that my boyfriend gets excited about. He'll eat it but it's nothing special for him. But me? I can easily munch away on 2 or 3 ears of corn. Maybe it's because I grew up with corn growing in our backyard garden and I remember the days spent hoeing and weeding, clods of dirt crumbled between my fingers. I loved walking through the stalks, selecting which ears to pick for dinner in an hour. Well, I loved it until I read that creepy short story by Stephen King called "Children of the Corn" anyhow. After that, my enjoyment was marred by an intermittent wave of nervousness.
Anyhow....How could I make corn into something my boyfriend could get excited about? Because once summer corn hits and it goes on sale for 5 or 6 ears of corn for a single dollar, all I want to do is eat corn. Settled on Fried Corn Off the Cob. I thought cutting the ears off the cob would be a pain, but it's not too much hassle after all.
He liked Fried Corn Off the Cob better than boiled corn on the cob but still wasn't all that excited. But then I added chili powder and lime juice. And now? Now he likes it so much he'll cut the kernels off the cobs for me lest I decide to skip it and just boil the corn.
Chili-Lime Fried Corn Off the Cob
2 ears of corn
1 Tbsp butter
salt
pepper
1 tsp chili powder
1 tsp lime juice


Cut the kernels off the corn cob. Then run the back of the knife and then with a spoon to scrape out all the little bits of corn and juice out of it. Set the corn kernels aside.


Heat 2 or 3 teaspoons of butter in a skillet and let the butter melt and bubble slightly.


Add back all the corn and stir around a lot to mix the butter with the corn kernels. Add some salt and pepper to taste. If you stop at this step, you've got the regular Fried Corn Off the Cob that I started with.


Add 1 tsp chili powder and 1 tsp lime juice to the mixture. Stir. Fry for a total of about 5 minutes.

Fried Corn Off the Cob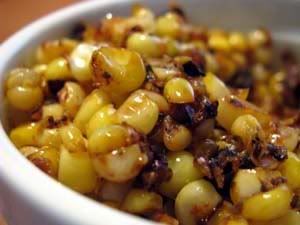 Chili-Lime Fried Corn Off the Cob
Adapted from this recipe:
http://recipes.pauladeen.com/index.php/forums/viewthread/1914/
Thread at vegrecipes:
http://community.livejournal.com/vegrecipes/1681722.html