cwhf
posted this
recipe for Banana Cake with Cream Cheese Frosting
and I decided I had to make it.
But then the substitutions began. I didn't have any buttermilk so I made a substitute of 1 Tbsp of white vinegar plus enough milk to make it a cup. Then I screwed up and used that entire cup of buttermilk instead of just 2/3 of a cup. No problem...I'll just bake it longer and hope I can get away with that. Crap. What else? Brown sugar was all hard so I put some in a ramekin and put a cup of water in the microwave and microwaved on high for 30-60 seconds at a time until it was softened enough to use. And finally, I used 2 9-inch round pans since that's what I had instead of 8-inch round pans or in a single 9x13 pan that
cwhf
used. Close enough, right? Oh and I used pecans instead of walnuts because, again, that's what was available in the house.
Looking back at those steps, it doesn't seem like much changed. But I'm still nervous when it comes to baking and I haven't baked that many cakes. After 30 minutes in a 350F oven, I took them out and toothpicked them. One of them seemed a little moist still so I put it back in for about 5 more minutes. Then I set both of those out to finish cooking in their pans on a wire cooling rack.
For the frosting, I decided to just make half as much since Brian's not even into frosting. Had to wait for the butter to thaw from the freezer. Finally made the icing too. It was a little too tangy for me. I think I should add more sugar. Brian thinks I should reduce cream cheese and increase butter. In any case, I was too impatient to just finish and eat cake already. Iced between the 2 layers of cake and then iced the top and sides. Found it slightly tedious to put the icing on. Maybe it would've helped to chill the icing a little bit. Sprinkled chopped pecans on top. Looked great. Brian laughs that sometimes I seem to care only about getting a good photo of the dish -- having it taste good too is just bonus.
And we got our bonus. Tasted great and was nice and moist. Adding too much buttermilk didn't kill it after all.
Banana Cake with Cream Cheese Frosting
INGREDIENTS
* 2 1/2 cups all-purpose flour
* 1 tablespoon baking soda
* 1 pinch salt
* 1/2 cup unsalted butter
* 1 cup white sugar
* 3/4 cup light brown sugar
* 2 eggs
* 4 ripe bananas, mashed
* 2/3 cup buttermilk [accidentally used 1 cup]
* 1/2 cup chopped walnuts [used pecans instead]
DIRECTIONS


Preheat oven to 350 degrees F (175 degrees C). Grease and flour 2 - 8 inch round pans. In a small bowl, whisk together flour, baking soda and salt; set aside.


In a large bowl, cream butter, white sugar and brown sugar until light and fluffy. Beat in eggs, one at a time. Mix in the bananas. Add flour mixture alternately with the buttermilk to the creamed mixture. Stir in chopped walnuts. Pour batter into the prepared pans.


Bake in the preheated oven for 30 minutes. Remove from oven and cool on rack.

Cream cheese frosting (a lighter version)
Definitely don't make this too sweet; the tang plays nicely off the sweet cake.
1/2 stick of butter (4 tbsp), room temperature
8 oz 1/3 less fat cream cheese
Very scant cup of confectioner's (powdered) sugar (probably closer to 3/4 cup)---add to taste


Cream first 2 ingredients with mixer.

Add sugar in gradually as you mix to taste.

I made a half-batch with 2 Tbsp butter, 4 oz of cream cheese, and 1/4 cup powdered sugar. I think I cut the sugar too much and should've added more.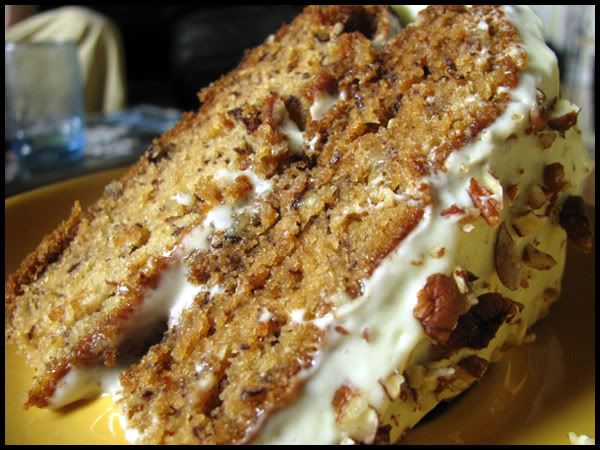 Mmmmmm. Many thanks to
cwhf
for posting this! We'll be making it again next time I've let bananas ripen enough to attract fruit flies.
Reference links:
http://cwhf.livejournal.com/117971.html
http://allrecipes.com/Recipe/A-Number-1-Banana-Cake/Detail.aspx
Thread at bakebakebake:
http://community.livejournal.com/bakebakebake/2873309.html