Trying to catch up on posting recipes. I'm posting this one since it was easy to make, healthy and low-fat, and made for a colorful photo. I didn't have any chutney so I had found it a little on the bland side. Maybe I needed to add some salt? Not sure. But if any of you doctor it up so it becomes one of your favorite recipes, do let me know. I've loved Major Grey's chutney in the past so maybe I just need to get a bottle of that and then this recipe could be a new favorite.
Moroccan Chicken with Couscous
The ingredients are written for one serving, which can easily be doubled.
Ingredients:
1 skinless boneless chicken breast
1/2 zuchinni
6 pearl onions (Boiled for 5 minutes, shocked with an ice bath, and peeled)
1 roma tomato
2 TB raisins (Golden preferred)
1 stalk celery
1 cup cooked couscous (Cook the couscous in chicken broth so it's more flavorful. I'm allergic to wheat, and I've found quinoa is a wonderful substitute!)
Aluminum foil (for wrapping)
Sauce:
pinch of red pepper flakes (optional)
1 TB lemon juice
2 TB chicken broth
1 tsp corn starch (Corn starch and chicken broth can be adjusted to make a thinner or thicker sauce)
1/4 c Major Grey's chutney + more for topping


Heat oven to 450F.

Cut everything in bite size pieces so that it all cooks at the same rate and place in a large bowl. Set aside.

Prepare sauce: Heat the chicken broth (until boiling?) in a small sauce pan, remove from heat, add corn starch. Whisk corn starch mixture until there are no lumps. Add lemon juice, chutney, and pepper flakes. Whisk mixture and pour into bowl with chicken.

Lay out a 4x6-inch sheet of foil and place one serving of chicken mixture on the sheet. Wrap up the foil tightly so it makes a nice, little pouch.

Place in the oven for 12-18 mins.

Serve on couscous with chutney topping and enjoy!!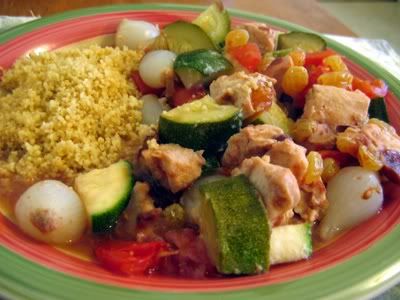 Posted by
eroticism
in cooking:
http://community.livejournal.com/cooking/3581216.html
Cross-posted to chicken_recipes:
http://community.livejournal.com/chicken_recipes/74733.html