I kept seeing this recipe in the coupons inserts in the Sunday papers. Since I'm the only one in the house that likes jello, I made a half batch of this, substituting in chopped pecans instead of chopped walnuts since that's what I had at home. Pouring them into paper cupcake liners made for ready-made portion sizes and a cute presentation. Problem was that the jello kept sticking to the paper liners so there was a disappointing loss of jello unless I sucked all the jello off the paper. Next time, if I had to make portions for a large group, I would chill it in a large baking pan and cut into little squares.
How did they taste? These were like those jello salads I had had at church potluck dinners as a kid but with a better selection of fruit bits in them and no celery. (Who thought celery would be good in jello? And why did they call them jello salads anyhow? There weren't any greens in there!) The mix of tangy cranberry sauce and sweet pineapple bits playing were so good that even my boyfriend (who doesn't like that slippery squiggly jello texture) had a few. His only complaint was that it was a little too sweet. I couldn't think of a way to mitigate that. I tried adding more pecan bits for the next half batch. I just poured the final mixture into wine and martini glasses. Bigger serving sizes and a pretty presentation. Very simple to make.
Oh! So long as I'm thinking about jello... I recently had seen mention of a cake with jello inside it. I got the impression it was popular over there (Australia?) although I had never seen anything like it. I just shrugged at the time but then later wanted to look at the recipe more closely since I wondered how it would taste. But I couldn't remember what they called it and when I search online for 'jello cake' I keep getting recipes for 'jello poke cake' which I don't think is what I had been looking for. I thought it was cake with a block of jiggly jello in the middle. I might be mis-remembering. Any of you ever eat jello poke cake? Does it retain any jello properties? Or does it just taste sweet and add some spikes of color to the cake?
Anyhow...back to this recipe. These Cranberry-Pineapple Minis and
this recipe for Strawberry Pretzel Squares
remain my all-time favorite things to make with jello. What are your favorites?
Cranberry-Pineapple Minis
1 can (20oz) crushed pineapple, in juice
2 pkg (3oz each) Jello Raspberry Flavor Gelatin
1 can (16 oz) whole berry cranberry sauce
2/3 cup chopped walnuts pieces [I used chopped pecans]
1 apple, chopped


Drain pineapple, reserving juice. Add enough water to juice to measure 2-1/2 cups; pour into saucepan. Bring to boil.


Pour liquid over gelatin mixes in large bowl; stir 2 minutes until completely dissolved.


Stir in pineapple, cranberry sauce, nuts, and chopped apple. Spoon into 24 paper-lined muffin cups. [Or pour into glasses.]


Refrigerate 2-1/2 hours or until firm. Remove liners.

Makes 24 servings.
10 min prep time.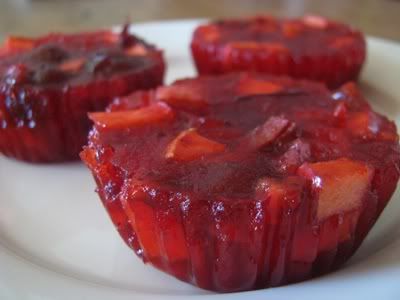 Recipe:
http://www.kraftrecipes.com/recipes/cranberry-pineapple-minis-111197.aspx
Thread in cooking:
http://community.livejournal.com/cooking/8556200.html