*gasp* It's been hot and humid. On one of these muggy nights, I asked my boyfriend, "What do you want for dinner? I could make something with the sausage and zucchini or I saw a recipe for..."
He interrupted me with, "... anything that doesn't involve adding any more heat to this apartment!"
I had been meaning to try this mixed bean salad recipe and I had most of the ingredients in the house. I'm glad I made it. It's easy to make, filling, and tasty (and even tastier the next day). It keeps well in the fridge so you can make it ahead and pack a lunch the next day. It doesn't need to be reheated so you can bring it to a potluck. And if you use canned beans, you don't have to heat up your apartment.
Mixed Bean Salad with Sun-Dried Tomatoes
Yield: 14 servings (serving size: 1/2 cup)
Ingredients
1 (8-ounce) jar oil-packed sun-dried tomato halves
1/2 cup chopped fresh parsley [skipped since I had none]
1/2 cup chopped fresh basil
1 (15-ounce) can red kidney beans, rinsed and drained
1 (15-ounce) can white kidney beans, rinsed and drained
1 (15-ounce) can black beans, rinsed and drained
1 (15.8-ounce) can black-eyed peas, rinsed and drained
1/2 red onion, thinly sliced
1/3 cup red wine vinegar (or use cider vinegar)
1/4 cup sugar
1 teaspoon salt
1/2 teaspoon dry mustard
1/4 teaspoon freshly ground black pepper


Drain sun-dried tomatoes in a sieve over a bowl, reserving oil. Place 1/4 cup reserved oil in a medium bowl. Return the remaining oil to sun-dried tomato jar; reserve for another use.


Chop drained tomatoes; place in a large bowl.


Add parsley and next 6 ingredients (through onion) to chopped tomatoes, and stir gently to combine.


Add vinegar and remaining ingredients to 1/4 cup reserved oil, stirring with a whisk. Drizzle over bean mixture; toss gently to coat. Cover and chill.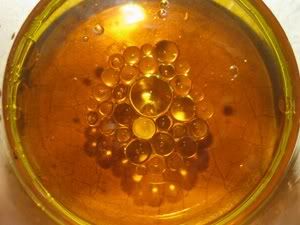 Pretty bubbles formed when I poured the red wine vinegar into the olive oil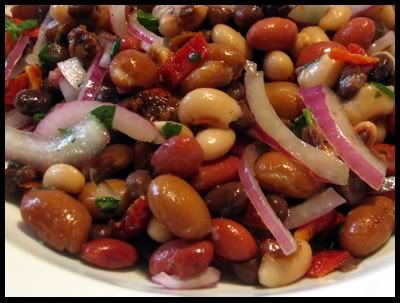 This recipe from Cooking Light so there's also nutritional info to list!
Janice Daciuk, Cooking Light, SEPTEMBER 2004
http://find.myrecipes.com/recipes/recipefinder.dyn?action=displayRecipe&recipe_id=689963
Nutritional Information
Calories: 181 (28% from fat)
Fat: 5.7g (sat 0.7g,mono 3.6g,poly 0.9g)
Protein: 7.2g
Carbohydrate: 26.2g
Fiber: 4.4g
Cholesterol: 0.0mg
Iron: 2.5mg
Sodium: 500mg
Calcium: 100mg
Thread in vegrecipes:
http://community.livejournal.com/vegrecipes/1684467.html