Last week I asked for ideas of
what to cook with pork shoulder
. You guys must think I'm a really well-stocked cook or a really ambitious cook. I got recipes with herbs I don't have, equipment I don't have, and techniques I don't know. But! Your ideas did indeed give me great ideas.
I decided I wanted to make carnitas but I still had the problem of a hot oven. Then I found a recipe for slow-roasting pork shoulder overnight. Perfect. It's not as hot at night and even if the oven's putting off heat, it's not in the bedroom so we weren't affected by that. With a little more poking around online, I picked the seasonings from another recipe and adapted them to get a tasty dish that my boyfriend Brian ranked as one of his favorites.
Starting at midnight, I got it into the oven by 1am. Took me a while to stab the meat and insert all six cloves' worth of garlic slivers into the holes. I didn't have adobo seasoning so I mixed up a batch using 1 tsp each of black pepper, salt, dried oregano, turmeric, and garlic powder. While I had set the oven to 200F, most of times when I peeked into oven it was at 150F to 175F. I was originally going to cook it for 8 hours overnight but I decided to let it go for 12 hours, flipping the roast a few times whenever I checked on it. Ended up going for 13 hours and then leaving it in the turned-off oven for another hour after that before we ate. Meat was very tender and falling off the bone. I should've used all of the adobo seasoning and more cumin. Meanwhile, I had used 1 tsp of chili powder that I got from the Indian grocery store and that's got quite a bit of heat from it. So next time, I'm just using 1/4-1/2 tsp of chili powder if it's still that one. Also, use more salt at the beginning. After I got it out of the oven, I added more salt and the rest of the adobo seasoning to the meat. Very yummy and easy to make (although it does require much patience). I'll likely make this again with the other pork shoulder we have in the freezer.
Overnight Pork Carnitas
pork shoulder
6 cloves garlic, sliced into slivers
2 tsp ground cumin [bump up to 1 Tbsp cumin]
2 tsp adobo [bump up to 1 Tbsp or maybe even 5 tsp adobo]
2 cups water
1/2 cup orange juice
2 bay leaves
1 tsp chili powder [use less if your chili powder is very spicy]


Season pork with salt, ground cumin, and adobo. In a dutch oven, heat grapeseed oil on medium-high heat, then brown pork on all sides for about 10 minutes. Remove pork from heat and allow to cool.


Deglaze pan with one cup water. Scrape up any bits.


Preheat oven to 200F


Using a sharp knife, insert blade into pork, cutting small holes and insert garlic slivers.


Place pork back into Dutch oven. Add bay leaves and 1 tsp chili powder. Pour in other cup water and 1/2 cup orange juice.


Cover and place pot into preheated oven for 8 hours. (or let it continue to cook if you want the meat to continue getting more and more tender. I cooked mine for 13 hours total, although that was partly because we were doing other stuff and weren't ready to eat.)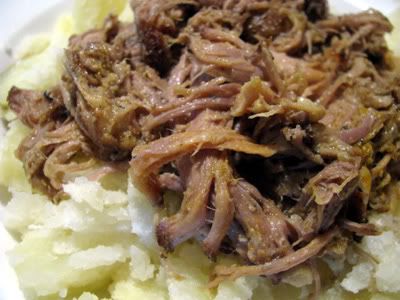 These are the recipes I adapted.
http://www.skinnytaste.com/2010/03/mexican-slow-cooked-pork-carnitas.html
http://www.food52.com/recipes/3928_overnight_boston_butt_recipe
I didn't have any adobo so I used the spice combination suggested at
http://herbsaint.wordpress.com/2005/10/
I used 1 tsp each of: salt, black pepper, dried oregano, turmeric and garlic power