It's been so long since I've posted a recipe that I'll posted two here. First the mushroom risotto and then a description of what to do with the leftovers to make Baked Arancini. (though I think I'd rather fry the arancini instead of baking them next time)
Mushroom Risotto
Got this recipe from the box of Trader Joe's Arborio Rice
12 oz Arborio rice [I used 1 cup instead]
4 cups heated stock (vegetable, chicken, or beef)
1 chopped onion
1/2 Tbsp butter
mushrooms [I used about 2 cups of dried and fresh mushrooms]
parmesan or other grated cheese
4oz dry white wine
1/8 cup of cream
salt to taste


If using dried mushrooms, follow instructions on package to soak the dried mushrooms in hot water for a few minutes. Save the soaking liquid.


In a medium-sized heavy-bottomed saucepan, saute the onion in butter until golden, along with any additional ingredients (mushrooms, etc). Add the rice and stir until well-coated and translucent. (I did the onions first for 5-10 minutes before adding the mushrooms)


Add the wine and cook till evaporated. Stir in 1 cup of hot stock and simmer gently.


When the stock has been absorbed, add another cup, and continue in this way through the 18-20 minutes of cooking time. [Why do you need to do it just 1 cup at a time? I started adding 2 cups at a time so I didn't need to come back so soon]


Stir in the cream and cheese. Salt to taste. Remove from heat, cover and set aside for 2 minutes before serving. I had some cheese (Sottocenere with truffles) that a friend had given me for my birthday so I cut a few thin slices of that to lay on top of the risotto before serving.

The risotto tasted great but we weren't done yet. I wanted to make arancini with the leftovers.
Baked Arancini


First I cut up cheese into small little squares. (I used the sottocenere with truffles cheese but the recipes I looked at used mozzarella) Hopefully not too little. They were pretty small.


Then I took a heaping teaspoon of risotto into my palm and spread it out, put a square of cheese in the center, topped with another teaspoon of risotto and smushed it around to form a ball. Set them aside until all the balls were formed. I got 8 small little balls. Then rolled them around in seasoned breadcrumbs.


Placed them on a baking sheet that had a sheet of parchment paper over them. Refrigerated the prepared balls for 30 minutes. While they were chilling, I pre-heated oven to 425F.


Sprayed the balls with cooking oil spray. Then baked for 20-25 minutes until golden brown.

End result? Tasted like risotto with a slightly crunchy breadcrumb coating. The crispiness wasn't particularly pronounced. Tasted good but probably better to have fried these. At least the cheese in the center still got gooey.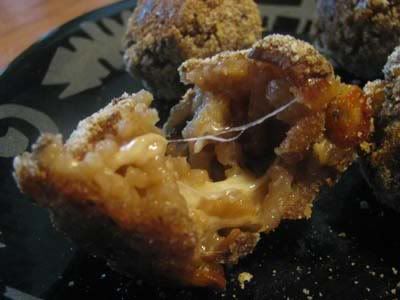 I had referenced the following baked arancini recipes:
http://www.browneyedbaker.com/2009/08/10/arancini-italian-rice-balls/
http://ashleescooking.blogspot.com/2009/08/baked-arancini.html