I wanted to make cheesecake. I had even bought a small springform pan so that we wouldn't have too much cake to eat for only 2 people. Problem was...when I started looking at cheesecake recipes, I felt intimidated. All these warnings about water from the water bath seeping into the pan. Tips on how to get a smooth surface so it doesn't crack. I hadn't ever used a springform pan either so it just seemed like too many things to figure out at once. But then I found this no-bake recipe.
I halved these recipes since my springform pan is smaller. We kept leftover sauce in the fridge and heated it up in the microwave to drizzle over pumpkin cheesecake and vanilla ice cream. The sauce was very easy to whip up. Main danger is leaving it on the heat too long and burning it.
Made some mistakes on the cheesecake but it still tasted great even if it doesn't look at all polished. I think maybe I didn't let it chill long enough or maybe I was supposed to butter the parchment paper. But when I removed the parchment paper, a lot of bits of cheesecake stuck to the parchment paper and the resulting cake looks a bit lumpy. But like I said, it was easy to make and tasted great so we'll be trying again. I still haven't attempted to make Real Cheesecake yet. So if you have any recipes to suggest to a beginner, let me know.
Easy Refrigerator Pumpkin Cheesecake
from Whole Foods Market
Serves 8
Crust:
1 cup graham cracker crumbs
4 tablespoons (1/2 stick) unsalted butter, melted
Filling:
1 cup pumpkin purée
4 tablespoons (1/2 stick) unsalted butter, softened
2 (8-ounce) packages Neufchatel or cream cheese, softened
1 teaspoon vanilla extract
1/2 teaspoon ground nutmeg
1/4 teaspoon salt
1/2 cup powdered sugar, sifted


Preheat oven to 400 degrees F. Use a long, thin rectangle of parchment paper or foil to line the inside edge of a 9-inch springform pan; set aside.


For the crust: In a medium bowl, combine graham cracker crumbs and melted butter. Press mixture into bottom of prepared pan and about 1/4-inch up the sides. Bake until golden brown and toasted, 7 to 8 minutes; set aside to let cool completely.


For the filling: In a medium bowl, beat pumpkin purée, remaining softened butter, cream cheese, vanilla, nutmeg and salt with an electric mixer until smooth. Reduce speed to medium low and add sugar 1/4 cup at a time; beat until smooth. Transfer pumpkin mixture to prepared pan, spreading it out evenly over the crust.


Cover and chill until set, about 6 hours, or overnight. Remove outer ring of pan. Cut into slices and serve.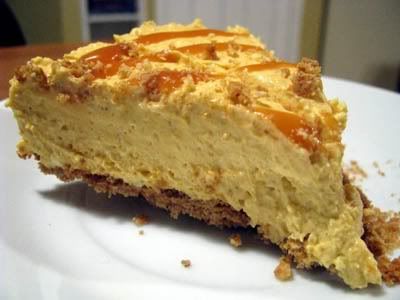 Caramel Sauce
from
SimplyRecipes
1 cup of sugar
6 Tbsp butter
1/2 cup heavy whipping cream


Get everything ready. Make sure you have the sugar, butter, and cream lined up next to your pan, ready to add. Be careful! Caramelizing sugar is really hot and hurts if you get it on your skin. You may wish to wear mitts.


Heat sugar on moderately high heat in a heavy-bottomed 2-quart or 3-quart saucepan with high sides. As the sugar begins to melt, stir vigorously with a whisk or wooden spoon. As soon as the sugar comes to a boil, stop stirring. You can swirl the pan a bit if you want, from this point on. Note that this recipe works best if you are using a thick-bottomed pan. If you find that you end up burning some of the sugar before the rest of it is melted, the next time you attempt it, add a half cup of water to the sugar at the beginning of the process, this will help the sugar to cook more evenly, though it will take longer as the water will need to evaporate before the sugar will caramelize.


As soon as all of the sugar crystals have melted (the liquid sugar should be dark amber in color), immediately add the butter to the pan. Whisk until the butter has melted.


Once the butter has melted, take the pan off the heat. Count to three, then slowly add the cream to the pan and continue to whisk to incorporate. Note than when you add the butter and the cream, the mixture will foam up considerably. This is why you must use a pan that is at least 2-quarts (preferably 3-quarts) big.


Whisk until caramel sauce is smooth. Let cool in the pan for a couple minutes, then pour into a glass mason jar and let sit to cool to room temperature. (Remember to use pot holders when handling the jar filled with hot caramel sauce.) Store in the refrigerator for up to 2 weeks. Warm before serving.

Makes a little over one cup of sauce.
Original Recipes:
No-bake Pumpkin Cheesecake:
http://www.ezrapoundcake.com/archives/4805
Caramel Sauce:
http://simplyrecipes.com/recipes/caramel_sauce/