Want a hearty hot breakfast this weekend without needing to do a lot of work in the morning? I assembled this casserole the night before and kept it in the fridge overnight. Next morning, I popped it in the oven, went for a run, and came back to a hot breakfast. This one's another good dish for using up stale bread.
In the comments on the original recipe, someone had recommended letting it soak overnight if you liked a bread pudding texture, or reducing the soaking time to about 2 hours if you preferred a sturdier texture. My boyfriend doesn't like the texture of bread pudding but I still wanted the convenience of an overnight soak, so I let the bread get really hard and stale and reduced the amount of milk and that seemed to work well. While you can use ready-made sausage, I've been using this
Homemade Breakfast Sausage recipe
.

Breakfast Sausage Casserole

Yield: 8 servings

Ingredients
Cooking spray
1 pound of breakfast sausage
8 (1 1/2-ounce) slices sourdough bread, cut into 1/2-inch cubes (about 8 cups)
2/3 cup (about 2 1/2 ounces) shredded sharp cheddar cheese
1 1/2 cups 1% low-fat milk
1 egg, beaten
1 tablespoon Dijon mustard
4 ounces of mushrooms, sliced (optional)




Heat a large nonstick skillet over medium-high heat. Coat pan with cooking spray. Add sausage to pan; cook 5 minutes or until browned, stirring well to crumble.


Spray a 13 x 9-inch baking dish with cooking spray.


Put bread in prepared baking dish. Top evenly with cooked sausage and cheddar cheese and mushrooms (if using).


Combine milk, egg, and Dijon mustard, stirring with a whisk. Pour over bread mixture in dish.


Cover and refrigerate 8 hours or overnight.


Preheat oven to 350°.


Uncover casserole. Bake at 350° for 1 hour and 5 minutes or until set and lightly browned.


Let stand 15 minutes before serving.





Adapted from original Recipe found in Cooking Light, October 2005:
http://find.myrecipes.com/recipes/recipefinder.dyn?action=displayRecipe&recipe_id=10000001108260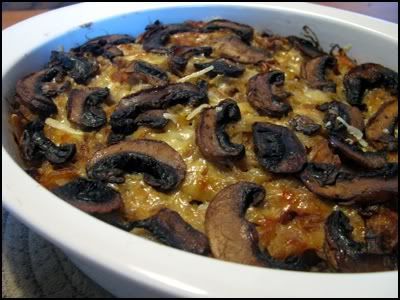 Here's the finished dish. I had almost forgotten to add the mushrooms so they're on top.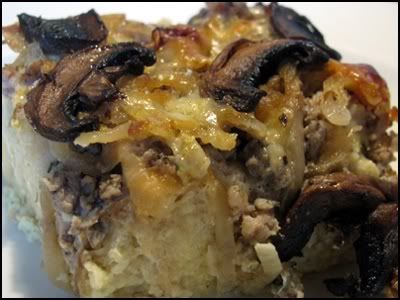 Here's a close-up of one piece of this Breakfast Sausage Casserole.