aingealnacistin
posted this recipe for
Lime-Thyme Potato Wedges
. Like her, I thought it sounded strange but I tend to like potato dishes so I gave this one a try. They smelled so good while I was making them. The air was filled with the herb-tinged limey scent that intensified while they were in the oven. As soon as they came out of the oven, we dug in but they were too hot to taste much of anything. As they cooled, they tasted better but never quite got up to really awesome. I might've messed up by not adding alll of the grated cheese, but it never tasted particularly limey to me. And maybe my batch needed to be cooked a little longer. Not sure. I'll have to give it another try some day since it really did smell awesome. I'll try doubling the seasonings.
Ingredients:
1/4 cup butter, melted
1 tablespoon lime juice
1 teaspoon grated lime peel
1 teaspoon dried thyme
3 large potatoes (ours were a bit smaller, so we got 4 wedges to each, rather than the 8 the recipe did)
1/4 cup grated Romano cheese (we used a Parmesan/Romano blend)
1/2 teaspoon salt
1/4 teaspoon paprika
Directions:
In a large bowl, combine the butter, lime juice, peel and thyme. Cut each potato into eight wedges; add to lime mixture and toss to coat. Place wedges skin side down on a greased baking sheet. Combine the cheese, salt and paprika; sprinkle over potatoes. Bake at 400° for 20-25 minutes or until tender.
Yield: 6 servings.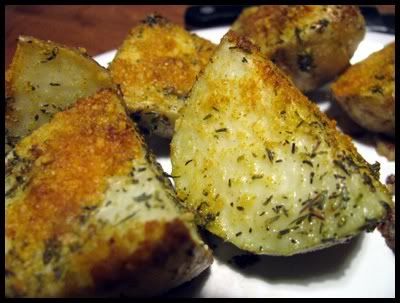 Original Recipes:
http://www.tasteofhome.com/Recipes/Lime-Thyme-Potato-Wedges
http://aingealnacistin.livejournal.com/2291.html