I think I might have added too many vegetables and pasta since I barely had enough liquid to call this a soup at the end. But it was still very tasty, filling, and satisfying. Thanks
angelninas!



Pour some wine, slice some fresh bread, and enjoy!

Angelnina's Italian Sausage and Pasta Soup

1 pound Italian sausage (casings removed)
1 clove garlic, minced
1 32 oz box chicken stock
1 (14.5 ounce) can Italian-style stewed tomatoes
1 cup sliced carrots
2 small zucchini, cubed
2 cups torn spinach
1/4 tsp salt
1/4tsp pepper
package fresh Four Cheese large ravioli pasta pillows [I used tortelloni]


Directions



In a stockpot or Dutch oven, brown sausage with garlic. Stir in broth, tomatoes and carrots, and season with salt and pepper. Reduce heat, cover, and simmer 15 minutes.

Stir in zucchini. Cover, and simmer another 10 minutes, or until zucchini is tender.

Add pasta and cook 5 more minutes

Remove from heat, and add spinach. Replace lid allowing the heat from the soup to cook the spinach leaves. Soup is ready to serve after 5 minutes.

Sprinkle with a little bit of fresh parmesan reggiano cheese.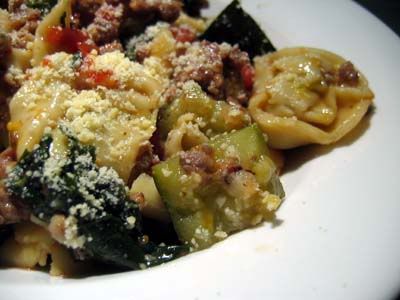 Recipe from: http://angelninas.livejournal.com/21503.html