annieeats
mentioned a recipe for Confetti Cabbage Salad with Spicy Peanut Dressing. After poking around online, I think she was using
this recipe
. I decided to adapt it a bit to suit the ingredients I had at home, producing this recipe for Spicy Sesame Napa Cabbage and Carrot Salad. I later tried it with green cabbage too but I like Napa Cabbage more. I think I like using green cabbage a little more when I make it with peanut dressing. And I prefer Napa Cabbage with the sesame dressing. Both ways are good though. I had served this up with
Balsamic-Glazed Chicken with Caramelized Onions
and liked that. Also works as the main dish.
Spicy Sesame Napa Cabbage and Carrot Salad
1/2 small head of Napa cabbage, shredded fine
1 Large carrot , peeled and grated
1 teaspoon Kosher salt
2 Tablespoons sesame paste (or smooth peanut butter)
2 Tablespoons sesame oil (or peanut oil)
2 Tablespoons Rice vinegar
1 Tablespoon Soy sauce
1 teaspoon Honey
2 Medium cloves garlic , minced
1. Toss shredded cabbage, carrot, and 1 teaspoon salt in colander or large mesh strainer set over medium bowl. Let stand until cabbage wilts, at least 1 hour or up to 4 hours. Rinse cabbage and carrot under cold running water (or in large bowl of ice water if serving immediately). Press, but do not squeeze, to drain; pat dry with paper towels. (Can be stored in zipper-lock bag and refrigerated overnight.)
2. Mix peanut butter, sesame oil, rice vinegar,soy sauce, honey, and garlic together to form the dressing.
3. Toss cabbage and carrot with dressing together to coat. Cover and refrigerate until ready to serve.
This has the sauce just drizzled on a little.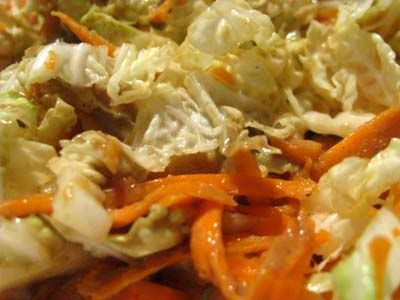 Here's what it looks like after you've mixed up the salad if you don't use too much sauce.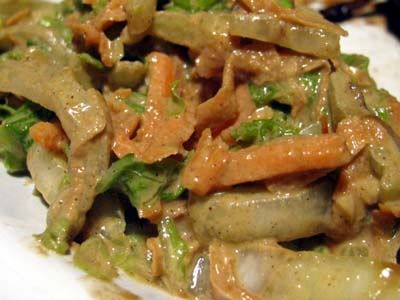 And if you add too much sauce, it looks more like this. Add however much sauce you prefer.
Original Recipe:
http://www.mealsmatter.org/recipes-meals/recipe/32192