I found this recipe in a book I picked up at a cookbook exchange that I went to with a friend. Cool idea. For a $5 donation/fee, you got to drop off any old cookbooks you didn't want anymore and walk out with as many of the books and magazines that you wanted. The leftover books were donated to a non-profit used bookstore
More Than Words
in Waltham, MA, that's run by teenagers.
This recipe was a hit. We had it two days in a row and have cooked it several more times since then. Definitely want those chopped peanuts on top at the end...a really nice crunch. I even happened to have a bottle of riesling that I opened since the book recommended riesling and it did indeed pair very nicely with this dish. Oh and we substituted in Linguine since I had no spaghetti in the house.
Want to make this vegetarian? Leave out the chicken and use vegetable broth instead of chicken broth. I imagine you could marinate tofu instead of chicken and that could work. Or just leave out the chicken and it would still be a very satisfying dish.
Spaghetti with Chicken and Thai Peanut Sauce
A Thai favorite, peanut sauce flavored with soy, ginger, lime, and hot pepper is usually served as a dip alonside chicken or pork satay. In this version, East meets West; the sauce is thinned with chicken stock and tossed with spaghetti, chicken, and scallions.
Serves 4
3 Tbsp plus 1 tsp soy sauce
2 Tbsp plus 1 tsp lime juice (from about 2 limes)
1 Tbsp cooking oil, plus 1 Tbsp more if needed
4 cloves garlic, minced [used 8 cloves since we love garlic]
3/4 tsp ground ginger
3 boneless, skinless chicken breasts (about 1 pound in all)
1/2 cup chunky peanut butter, preferably natural
1 cup canned low-sodium chicken broth or homemade stock
1/2 tsp sugar
1/2 tsp salt
1/8 tsp dried red-pepper flakes, or to taste [bumped up to 1/4 tsp and still not too spicy]
3/4 pound spaghetti
3 scallions including green tops, chopped
1/3 cup chopped peanuts (optional, but you should include them!)
1. In a medium, shallow glass dish or stainless-steel pan, combine the 3 Tbsp soy sauce, the 2 Tbsp lime juice, 1 Tbsp oil, garlic, and ginger. Add the chicken; turn to coat. Let marinate at least 10 minutes.
2. Meanwhile, in a medium, stainless-steel saucepan, combine the remaining 1 tsp soy sauce and 2 tsp lime juice, peanut butter, broth, sugar, salt, and red-pepper flakes. Pour the marinade from the chicken into the saucepan and bring just to a simmer over moderate heat, whisking until smooth.
3. Heat a grill pan over moderate heat. Cook the chicken until browned and just done, 4 to 5 minutes per side. Remove the chicken from the pan and let it rest for 5 minutes. Cut crosswise into 1/4-inch slices. Alternatively, heat the remaining 1 Tbsp oil in a heavy frying pan. Cook and slice the chicken the same way.
4. In a large pot of boiling, salted water, cook the spaghetti until just done, about 12 minutes. Drain the pasta and toss with the peanut sauce, chicken, and scallions. Top with the chopped peanuts, if using.
Wine Recommendation: A little bit of sweetness in the wine would be great with the Asian spices here. A kabinett riesling from the Mosel-Saar-Ruwer region of Germany has just the touch and good acidity.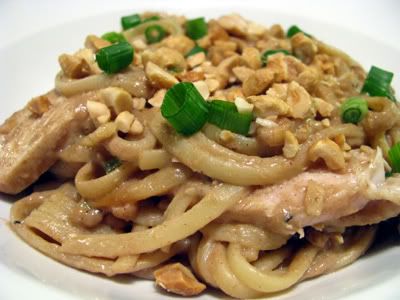 This recipe is from the book: Quick From Scratch Pasta, from Food & Wine Books copyright 1996
Editor in Chief: Judith Hill
This book is nice...full-page photo of every dish on the page opposite the recipe, and a wine recommendation given for each recipe.
Looks like you can pick it up used
here
and
here