For years, I had pondered whether or not to buy a stand mixer. Sure it might make things easier but would I really USE it? Enough to justify the cost? I especially wanted one once I started trying to make bread. Kneading took a lot of energy out of me and it was hard to think of it as relaxing when I kept poking at the dough, anxiously wondering if it was ready for the next stop or whether I should keep kneading for another 10 minutes. But then I wondered if I was going to stay interested in making bread or whether my attention was going to wander on to something else and leave me with an expensive kitchen appliance that would hog counter space.
Then last year, during the Black Friday sales when I was supposed to be shopping for gifts for other people, I spotted a sale I couldn't resist. Finally caved and bought a KitchenAid Pro 600 stand mixer. Once all the various discounts and incentives were applied, I got it for 67% off the list price (or more realistically, 59% off of the going rate since no one should pay MSRP!). The bargain hunter in me whooped with victory. I figured if I didn't use it as much as I thought I would, I would still be able to sell it on Craigslist for as much as I had paid for it (possibly even be able to flip it for a little more cash). Best impulse buy I've made in a long time. (Is it still an impulse buy if you've wanted to buy it for years?) I wipe it down to clean it with the same affection car people feel when polishing their cars.
In blue steel. I haven't named him yet.
But wait, this post is about a recipe, not about equipment. So as I was flipping through the booklet that came with the mixer, I saw this recipe for Mushroom-Onion Tartlets. It sounded delicious but I was skeptical about the crust ingredients. Cream cheese, butter, and flour? That's going to turn into a crust? I didn't really see how that was going to happen but they sounded yummy so I had to try. Besides, then I could finally use my little mini-muffin tin that I had bought and never used.
I was surprised that the little pastry crusts did indeed turn out. It takes a bit of effort to make the shells so I said I wouldn't be making it very often but then I made it again just a few days later. And now it's two months later and I'll be making them again this week because I really liked them!
For filling the cups, I took a piece of the dough, rolled it into a ball, and placed it on a piece of wax paper. Then I folded a corner of the wax paper over the ball and flattened it with my hand (like a tortilla press). Place that small sheet of dough and press it into the muffin cup. I needed to clip my fingernails so that the long nails didn't rip holes in the dough. Used gruyere cheese. Tasty. Could've used a dab of salt (maybe because I had used unsalted butter).
Mushroom-Onion Tartlets
Pastry Crusts Ingredients:
4oz light cream cheese
2 Tbsp butter
3/4 cup all-purpose flour
Filling Ingredients:
1 Tbsp butter
8oz fresh mushrooms, coarsely chopped
1/2 cup chopped green onions
1 egg [or
an egg substitute
to make it fully vegetarian]
1 tsp all-purpose flour
1/4 tsp dried thyme leaves
1/2 cup chredded Swiss cheese [I used gruyere and this week will use sharp cheddar]
To make pastry crusts:
Place cream cheese and 2 Tbsp butter in mixer bowl. Attach bowl and flat beater to mixer. Turn to speed 4 and beat about 1 minute. Stop and scrape bowl. Add 3/4 cup flour. Turn to speed 2 and mix about 1 minute, or until well blended. Form mixture into a ball. Wrap in waxed paper and chill 1 hour. Clean mixer bowl and beater. If doing this by hand, mix together with a wooden spoon and keep mixing until well blended.
To make filling:
Melt remaining 1 Tbsp butter in 10-inch skillet over medium heat. Add mushrooms and onions. Cook and stir until tender. Remove from heat. Cool slightly.
Divide chilled dough into 24 pieces. Press each piece into miniature muffin cup (greased, if desired).
For filling, place egg, remaining 1 tsp flour, and thyme in mixer bowl. Attach bowl and flat beater to mixer. Turn to speed 6 and beat about 30 seconds. Stir in cheese and cooled mushroom mixture. Spoon into pastry-lined muffin cups. Bake 375F for 15 to 20 minutes, or until egg mixture is puffed and golden brown. Serve warm.
Yield: 12 servings (2 tartlets per serving).
Per serving: About 98 cal, 4 g protein, 8 g carb, 6g fat, 33mg chol, 83mg sodium
Recipe came from the instruction booklet that came with the KitchenAid stand mixer.
Variations:
- My boyfriend B suggested adding sausage to the mix (though then it wouldn't be vegetarian)
- Would also be good with some spinach mixed with the mushrooms.
Here are the tartlets before going into the oven.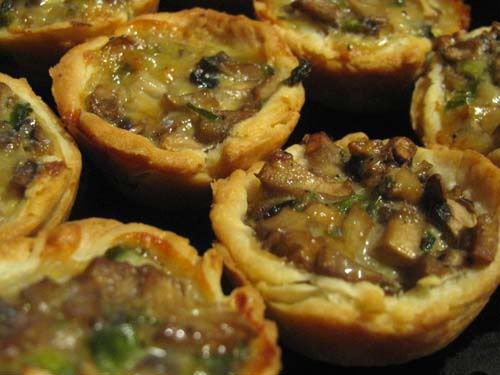 Mushroom-Onion Tartlets