With all the
bread making attempts
, we frequently have some leftover stale bread. I imagine this soup would also be great during the summer for those of you with a surplus of fresh tomatoes. This is the version I made after reading a bunch of recipes for Pappa al Pomodoro. Yum! We were already happy with it and then it got really really tasty the next day when we crumbled sausage into the leftovers. Vegetarians could maybe use the crumbled fake sausage to keep this vegetarian. Next time, we might cook up a batch of pasta and use this as a sauce over the pasta.
Pappa al Pomodoro (Tuscan Bread and Tomato Soup)
1 medium to large onion, thinly sliced
4 to 6 cloves of garlic, minced
olive oil
One 14.5-ounce can petite diced tomatoes
One 28-ounce can crushed tomatoes
Salt and freshly ground pepper
2 cups chicken broth (or vegetable broth to make it vegetarian)
4 cups chopped or torn stale Italian bread (about ½ pound)
pecorino or parmesan cheese, for serving
crumbled cooked sausage (or fake sausage for vegetarian) (optional)


Slice the bread into large cubes and soak briefly in water. (or longer if bread is really stale) Let bread drip in colander while you continue with rest of the recipe.

Heat olive oil in a big pot over medium heat.

Brown the onion, 8 to 10 minutes, stirring occasionally.

Add the garlic and stir-fry that until fragrant, about 1-2 more minutes.

Add chicken broth, crushed tomatoes, and diced tomatoes. Bring to a simmer.

Add the bread and let simmer. Poke around occasionally with spatula to break bread into smaller bits. Cook about 15-25 minutes until it's a thick, stew-like consistency.

Stir in torn fresh basil leaves. If using, stir in the cooked sausage or fake sausage.

Ladle the soup into shallow bowls. Grate some pecorino cheese and add a few grindings of black pepper before serving. Drizzle some more olive oil if desired.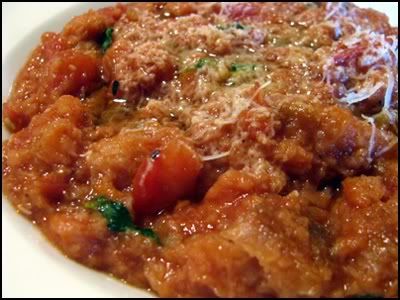 Adapted
this recipe
.