The lemon zest in this recipe brightens the flavor of these zucchini muffins. When I read through the comments left on the original recipe, some of the modifications that sounded interesting were:
- Making it in a loaf pan as a quickbread instead of as muffins
- Using dried cranberrries or fresh blueberries instead of raisins
- Substituting grated carrot for raisins
But I made this without much modification. I used 1/2 cup pecans instead of walnuts and 1/2 Tbsp dried lemon peel instead of freshly zesting a lemon. Yummy! I might use a little more dried lemon peel next time since B said he didn't really taste the lemon.
Made 1 dozen regular-sized muffins (baked 20 minutes) and 1 dozen mini-muffins (baked 14 minutes).
Zucchini Lemon Muffins
2 cups King Arthur Unbleached All-Purpose Flour
1/2 cup granulated sugar
1 tablespoon baking powder
1 teaspoon salt
grated peel of 1/2 lemon [used 1/2 Tbsp dried lemon peel]
1/2 cup (or more) chopped walnuts [used pecans]
1/2 cup (or more) raisins
2 eggs, beaten
1/2 cup milk
1/3 cup vegetable oil
1 cup (packed) shredded zucchini


Preheat your oven to 400°F.


Combine the flour, sugar, baking powder, salt and lemon peel in a large bowl. Stir in the walnuts and raisins.


In a smaller bowl (or a two cup liquid measure), combine the eggs, milk and oil.


Make a well in the center of the dry ingredients and add the wet ingredients. Stir just until barely combined and then gently fold in the zucchini.


Spoon the batter into a greased, 12-cup muffin tin. Bake for 20 to 25 minutes or until the muffins spring back when you press them with your fingertips.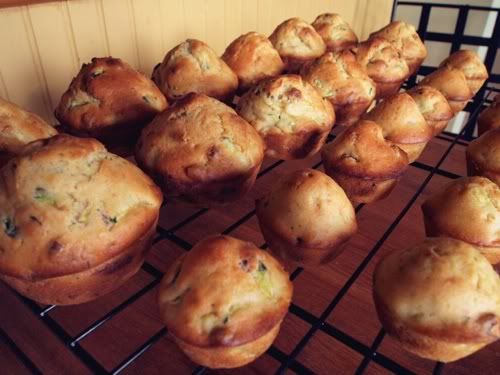 Original Recipe:
http://www.kingarthurflour.com/recipes/zucchini-lemon-muffins-recipe